Creatively Cluttered Introduces the Pivot Frame Collection
New handmade earring organizer line combines swing-style frames, antique flair and careful woodworking skills for a unique alternative to conventional jewelry storage.
Press Release
-
updated: Aug 13, 2019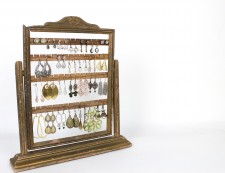 NAMPA, Idaho, August 13, 2019 (Newswire.com) - Creatively Cluttered, an independent designer and creator of jewelry organizers, recently announced the launch of its freestanding swing-style Pivot Frame Collection. Featuring 11 new products to display earrings, each piece touts a moving feature and timeless details that instantly immerse you into days gone by. The collection is available exclusively online at creativelycluttered.com
Creatively Cluttered is known for the metamorphosis of tangled jewelry drawers into organized, easy-to-use displays that any jewelry enthusiast can be proud of. Each design is one-of-a-kind and features ornate adornments; Kristen Randall, owner and designer of Creatively Cluttered, has hand-picked each one and added her own crafted wooden earring slats.
"My goal in designing the Pivot Frame Collection is to combine the unique qualities of the swing-style picture frames and give them a second life as an indispensable tool to battle the never-ending hunt for an earring match," said Randall. "I have been on the hunt for this style of frame for a while now and finally collected enough to come out with a line. The various colors, sizes and even movement styles come together as one stunning collection that is sure to transform your individual jewelry pieces into a functional work of art."
Products in the Pivot Frame Collection run from $30-$86. Members of the Creatively Cluttered VIPs email list receive a 15% discount on their first purchase. Those who join the VIPs also receive sneak peeks of new products, special sales and exclusive discounts available only to members.
About Creatively Cluttered
Creatively Cluttered was founded in 2014 with the intent to create high-quality, vintage-style alternatives to the jewelry storage dilemma. Incorporating found objects and sturdy oak wood into their products, Creatively Cluttered offers an array of innovative earring, ring, and necklace organizers to help clients leave behind the tangled mess and enjoy their jewelry again. To learn more about Creatively Cluttered visit creativelycluttered.com or follow Creatively Cluttered on Facebook, Instagram, and Pinterest.
Press Inquiries:
Kristen Randall
Founder & CEO
creativelycluttered@hotmail.com
creativelycluttered.com
Source: Creatively Cluttered
Share:
---
Categories: Consumer Goods
Tags: earring display, earring holder, earring organizer, earring storage, handmade gifts, jewelry display, jewelry organization, jewelry organizer, jewelry storage, unique jewelry holder, upcycled vintage, vintage home decor
---