Creative Writing for Therapeutic Recreation Contest Just in Time for Recreation Therapy Awareness Month
Press Release
•
Jan 31, 2016
reCreation Potentials- Expressive Arts for Therapeutic Recreation and Desert Rose Publications sponsoring a contest in celebration of Recreation Therapy Awareness Month.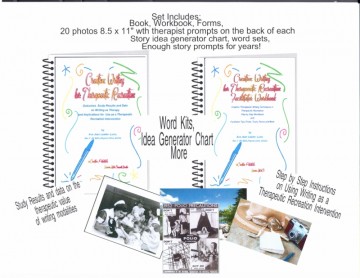 Calgary, Canada, January 31, 2016 (Newswire.com) - In recognition of Recreation Therapy Awareness Month, (February) A Calgary Therapeutic Recreation/Expressive Arts agency, Potentials and Desert Rose Publications are offering up a chance to win a book/workbook/photos/writing prompts package valued at $199.99.
Potentials provides consultation and Recreation/Activity /Nursing staff training in the use of creative and expressive arts such as music, art, writing, and guided imagery/mindfulness as adjunct to Recreation Therapy and Activities as well as providing 1-1 and small group facilitation in creative expression activities at the workplace or home setting of the client(s) or participants.
"Jeannie Lawler-Lunn ( the author of the book/workbook package Creative Writing Techniques for Therapeutic Recreation) has come up with what I think will be a valuable tool for years to come, not just for Recreation Therapists but others in the helping professions. She's been writing, singing and just plain creating for all the years I have known her professionally. This was meant to be! "

Lori Presiloski , Registered Recreation Therapist, Private Practice
The founding therapist is a Registered Recreation Therapist, with a degree in Psychology and Gerontology, and Advanced Clinical Hypnotherapy as well las education in Art and Art Therapy. She holds Memberships with Alberta Therapeutic Recreation Association, Canadian Therapeutic Recreation Association, International Hypnosis Research Institute, Canadian Association on Aging (Psychology Division) and International Expressive Arts Therapy Association.
Potentials contracts with other Recreation Therapists and Therapy Assistants to provide unique services indeed.
Creative Writing Techniques for Therapeutic Recreation, not just a book and workbook but an entire therapeutic kit, has been years in the making. Free to enter, except for one requirement - a short story about what Recreation Therapy means to you. But, of course. The prize is all about writing!
Enter at http://www.recreationpotentials.ca

Related Media