Craig Linden, Inventor of Real Time Touch and Telemedicine Visionary Will Be Visiting American Telemedicine Association (ATA) Annual Conference & Expo in Chicago, April 29 - May 1, 2018
Press Release
-
updated: Apr 26, 2018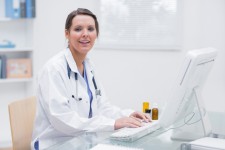 SAN DIEGO, April 26, 2018 (Newswire.com) - Craig Linden, inventor, and visionary of Real Time Touch (RTT) and related patents with innovative telemedicine applications will be visiting American Telemedicine Association (ATA) Annual Conference & Expo in Chicago, IL, April 29 – May 1, 2018.
Linden will be available for discussions and meet exhibitors of telemedicine applications for mutually beneficial developments. Contact Craig Linden at https://www.realtimetouch.com/contact or at rtt.craig@yahoo.com.
Real Time Touch is the first telehealth platform that enables its future partners to deliver real-time telemedicine treatments, therapies and controlled release of critical medications.
Real Time Touch envisions a new telemedicine technology platform including augmented/virtual reality, video conferencing and touch-interactions enabling remote video doctor-nurse-patient digital physical interaction, medication release at home, vehicle, wearable or on a mobile device. This new technology holds promise in reducing hospital, clinic & medicine costs, serving those in need while maintaining high-quality care & provider-patient relationships.
Meeting with Telemedicine Innovators at ATA 2018 in Chicago April 29 – May 1, 2018
"While visiting the ATA 2018 in Chicago I will meet with innovative potential partners to discuss our technology and patents, and share our unique vision about the future of physically-enhanced telehealth solutions," said Real Time Touch inventor and founder Craig Linden.
Of particular interest for innovator meetings:
Telepresence, augmented/virtual reality healthcare innovators

Telemedicine & telehealth video providers

Remote medication verification/adherence/release applications

Smartphone apps, smartwatches, health trackers and emergency telemedicine
Contact Craig Linden to discuss or set up a meeting at Contact Craig Linden at https://www.realtimetouch.com/contact or at rtt.craig@yahoo.com
Patents and Innovations - Craig Linden, Real Time Touch
Linden has been awarded by the United States Patent and Trademark Office (USPTO), US Patent 9,639,150, "Powered physical displays on mobile devices", which details claims and applications for a mobile electronic apparatus with:
Live physical communications and interactions with a remote person.

Physical display apparatus converting energy into physical movement, physical gesture sensors.

Machine vision systems such as for detecting health concerns.

Video projection, GPS and communications networking methods.
Another filed USPTO patent application is pending with additional smartphone claims and technologies related to telemedicine use cases.
Read more about Real Time Touch patents: https://www.realtimetouch.com/patents
As telemedicine demand and innovation surges, major companies like Apple (AAPL), Microsoft (MSFT), Alphabet/Google (GOOG), Facebook (FB), Amazon (AMZN) and Qualcomm (QCOM) have taken an interest. But also smaller startups are advancing telemedicine in diverse technology niches including mHealth, wearables, remote monitoring of medication/drugs and vital signs, blockchain, mixed reality (VR/AR), AI (artificial intelligence), machine learning, pharmaceuticals, telepsychology to treat depression, anxiety and PTSD and many more applications.
"Today's telemedicine industry is changing daily as companies begin to see the need for real-time remote pro-guided exams, triage, digital treatments, EHRs, and vital sign monitoring," says Linden. "Over twenty years ago... Real Time Touch was born with this realization and now with an issued patent seeks worldwide partners to deliver physically enhanced telemedicine to all people."
"As RTT connects with partners there will be public demonstrations of our patented technology. I believe companies will then demand an RTT-enhanced telemedicine platform. Let's meet to discuss our vision and our mission: Help People Thrive!"
Read more about Real Time Touch telemedicine use cases: https://www.realtimetouch.com/applications.
Contact Craig Linden and Real Time Touch:
Craig Linden
Inventor, Real Time Touch
rtt.craig@yahoo.com, mobile text or voice 1+ 619-301-3555
Web Contact form: https://www.realtimetouch.com/contact
Website: https://www.realtimetouch.com
Source: Real Time Touch
Share:
---
Categories: Healthcare, Emerging Businesses
Tags: Doctors, eHealth, Healthcare, Inventors, Mobile, Patents, Startups, Technology, Telehealth, Telemedicine, Treatment, Wearables
---