Crackle Circular From Kosta Boda Wins Prestigious Award
Press Release
•
May 2, 2023
The Red Dot Award: Best of the Best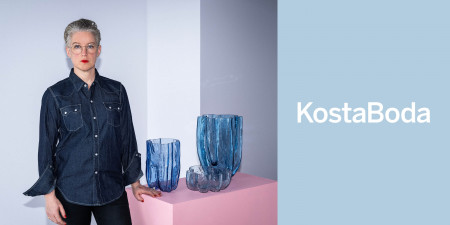 NEW YORK, May 2, 2023 (Newswire.com) - Crackle Circular — a collection featuring three vases and one bowl produced using upcycled waste glass in Kosta, Sweden — has been awarded one of the world's leading design awards: Red Dot Award in the category Product Design "Best of the Best."
Red Dot Award — based in Germany — was introduced in 1955 and is widely recognized as one of the most prestigious international design awards. The Red Dot: Best of the Best prize is awarded by an international jury for groundbreaking design and is the highest distinction in each category.
The Crackle collection, designed by Åsa Jungnelius and mouth-blown in Kosta, Sweden, is a tribute to cracks, beautifully preserved in glass. The mold is dug out of clay by hand, and the cracked surface is formed using an old craft technique where the hot glass is dipped in ice-cold water.
Crackle Circular is part of Kosta Boda's circular glass initiative using excess waste glass from other productions at Kosta Glassworks. The waste glass is first sorted into different shades before being reentered into the production of new items. As a result of the color sorting and the small bubbles that occur in recycled glass, each product ends up with a unique surface and color ID.
"I am incredibly thrilled that Crackle has received such a prestigious international award. Both form and technique stem from a shared objective with Kosta Boda to deliver an inclusive, honest, and sustainable product design that, despite using traditional craftsmanship, is progressive although imperfect up close. A great honor for a product collection with a strong yet exposed personality," says Åsa Jungnelius.
Images:
https://www.dropbox.com/sh/xxq6vkkbo1xx3i4/AAAiLPI5BZ7Kmvh2-eBHuYMaa?dl=0
About Åsa Jungnelius
Åsa Jungnelius is a Swedish artist who takes on assignments as a designer to reach a wider audience. Her work as a designer is a clear reflection of her art, which is often powered by a feministic approach.
Jungnelius has worked with glass as a material since she was 17, and she's been with Kosta Boda since 2007. One of her larger works includes the art installation the Seashell (Snäckan), which as a tribute to motherhood, will embrace the upcoming metro station Hagaplan in Stockholm, Sweden. Over the years, she has received many awards — for example, she's been named Designer of the Year in Sweden by both FORM AWARD and EDIDA (Elle Decoration International Design Award), she's a two-time winner of the Elle Decoration Swedish Design Award and has received both the Form Award and the Bukowski Born Classic for her designs.
About Kosta Boda
Kosta Boda is a historically celebrated crystal brand that offers bold, brave, and artistic glass and interior objects derived from Swedish design tradition. Today, Kosta Boda is one of the largest art glass suppliers in the world that works with internationally acclaimed artists such as Bertil Vallien and Åsa Jungnelius.
Source: Kosta Boda