Cozia Design Launches OceanView, an Innovative Snorkel Mask
OceanView Snorkel Mask, snorkelling made easy
Press Release
-
May 11, 2016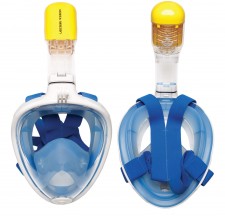 Wilmington, North Carolina, May 11, 2016 (Newswire.com) - Cozia Design is proud to announce the launch of a new product in our summer catalogue, the OceanView Snorkel Mask, a full face snorkel mask for both amateurs and experienced snorkelers.  The new exclusive product is now available as part of a best value pack with a pair of adjustable diving fins. ​
The design of this innovative full face snorkel reinvents the traditional snorkel and mask to enhance the user experience. The new design replaces the uncomfortable mouth piece with the newest technology with double vents, a top seal and a valve for draining water that make breathing through the nose possible even when submerged.
This new system has advantages for both amateur divers and experienced snorkelers as the traditional snorkel gear is known to be uncomfortable and even impossible to use for people with a strong gag reflex.
The snorkel mask is designed with a double ventilation system for unparalleled performance and user comfort.  The diver can breathe through the nose without effort or having to worry about water leaking.
Perfect 180 degree wide angle vision is guaranteed by the full face mask design paired with the ventilation system that keeps the screen from fogging.  The valve at the bottom of the mask makes draining the small amount of water that may enter the mask easy without having to remove the snorkel gear entirely.
The OceanView Snorkel Mask is designed for diving enthusiasts and snorkel lovers looking for a complete, immersive and most importantly comfortable snorkelling experience.
Best value pack, complete with adjustable diving fins
The OceanView Cozia Design snorkel mask comes in a summer bundle pack perfect for underwater adventures.  For more information about this snorkel mask, click here.
The pack contains:
- full face snorkel mask
- adjustable diving fins
- GoPro Mount
The high quality diving fins are perfect for almost anyone as they can be adjusted to match the wearer's shoe size. For children and women with smaller feet, the diving fins can be worn with special diving socks.
The GoPro mount is easy to install and use with the snorkelling equipment. The GoPro itself is not included in the pack.
About the Cozia Design
CoziaDesign.com is an outdoor sports and activities brand that focuses on promoting and developing premium gear designed using only the latest technology.  With a passion for innovation and a team dedicated to providing the best customer support, the brand is growing and expanding the product catalogue at a rapid pace.  
Cozia Design takes premium design to the next level.
Source: Cozia Design
Share:
---
Categories: Hobbies and Crafts
Tags: mask snorkel, snorkel gear, snorkel mask, snorkelling mask
---