COVID-19: Reveal Systems Launches Innovative Solutions to Enable Physical Distancing
Reveal Systems has introduced a series of innovative primary solutions to simplify space management, monitor occupancy levels and prioritise customer safety.
Press Release
-
updated: May 27, 2020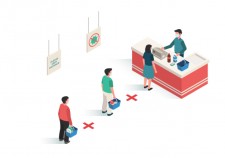 MILTON KEYNES, England, May 27, 2020 (Newswire.com) - With many countries across the globe easing lockdown measures, Reveal Systems has developed a series of products, resources and systems to help all industry sectors, including its traditional client base in shopping centres and retailer, adjust to "the new normal".  With APP-based "near-real-time" occupancy reporting, automated access control and temperature screening at the core of Reveal Systems' solutions, Reveal Systems' expert team helps businesses to comply with the WHO's physical distancing guidelines.
Reveal Systems Owner and CEO Russell Edwards comments:
"In anticipation of resolving some of the issues that businesses will face in the coming months, we have developed a series of innovative solutions to provide an immediate response and help protect staff, customers and assets during these challenging times whilst also adhering to the physical distancing and space occupancy guidelines. Provision of systems are only part of the equation, and I anticipate that additional business KPIs in the future will include enforcement and auditable reporting of performance against specified targets. We will be working closely with all industry sectors to develop new products and services as the user requirements PLUS future legislations and regulations become more defined."
The new solutions include:
Real-time people counting and occupancy reporting
People counting and tracking sensors count inflow and outflow of any monitored space; this will allow management teams to comply with strict capacity constraints. Options will include outputs to smart devices and variable message LED display panels to provide specific instructions to persons approaching a monitored space. The technology is GDPR compliant, with all data collected and processed directly in the sensors. Management and security staff can also access occupancy data directly on a purpose-built APP, which is now available.
Automated access control gates
Automated access control gates add another level of control and enforcement. This provides a physical barrier to correctly control visitor numbers while protecting staff and minimising management costs. The gates can be controlled directly from the monitoring system or manually by local override where required.
Temperature screening
Thermal imaging technology ensures shopping centres, supermarkets and retailers can quickly and efficiently detect anomalies in people, such as high body temperatures. Though unable to detect coronavirus, it is a non-contact, high accuracy solution that assists with health, safety and welfare compliance, while improving staff and customer confidence. The device reports the precise surface temperature of any object (within+/-0.3 degrees centigrade and 1 metre of the sensor). 
The new solutions allow managers to:
•           Adhere to specified occupancy thresholds
•           Comply with social distancing guidelines
•           Measure real-time customer visits
•           Control access efficiently
•           Optimise traffic management
•           Accurately understand visitor flow information and shopper density
•           Restore customer confidence
•           Ensure compliance with hygiene standards
If you would like to learn more about our solutions, please visit http://revealasset.com. 
Source: Reveal Systems
Share:
---
Categories: Retail
Tags: business, coronavirus, covid, footfall, occupancyreporting, physicaldistancing, retail, shopping, socialdistancing, WHO
---