COVID-19 News Consumption and Workplace Changes for Membership Organizations, According to EurekaFacts Survey
Press Release
•
updated: Apr 8, 2020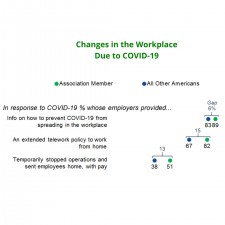 ROCKVILLE, Md., April 8, 2020 (Newswire.com) - With COVID-19 by far the biggest topic on the public's mind, Americans are turning to a variety of sources for news and updates. The sources used for facts about COVID-19 vary widely based on their belonging to occupational associations or labor unions.
Seventy percent (70%) of association members look to public health officials at the CDC for news and updates on coronavirus (versus 62% among all other Americans).
However, even as the emergency causes severe disruption in employment and occupational practices, relatively few (21%) union and occupational association members seek news and updates from their membership organization.
Additionally, only one in 20 (5%) of all other Americans seek news from unions or occupational associations about COVID-19.
The findings present an important challenge to membership organizations in bridging the gap with content that is directly relevant at the occupation or trade level. Content from membership organizations is most likely to be different from employer-provided updates and information issued by public health agencies.
Among membership organizations, during the time of COVID-19, there have been increased changes to the workplace including working from home (82%) and sending employees home with pay while operations are temporarily stopped (51%).
Results of the EurekaFacts national poll are available as a downloadable PDF. Sample sizes and sampling errors for overall results and subgroups available upon request. For more information about this study or additional research conducted by EurekaFacts, please contact Robert Suls at sulsr@eurekafacts.com.
Source: EurekaFacts surveyed 936 U.S. adults from our respondent panel between March 23-31, 2020. More than one-quarter of respondents (27%) indicated they belonged to a membership organization which includes labor unions, professional societies, and occupational associations. The survey was conducted in compliance with ISO: 20252 to which EurekaFacts is certified.
Source: EurekaFacts, LLC
Related Files