CoveringsETC Creates Re-Purposed Furniture From Lufthansa A320 Engine Parts
Press Release
-
updated: Apr 14, 2017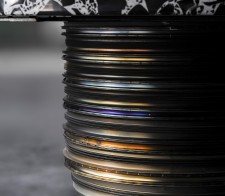 Miami, FL, April 14, 2017 (Newswire.com) - CoveringsETC showcased their new "Tecknik Project" for Lufthansa Airlines during Miami Ironside's first "Open Friday Breakfast" monthly event on March 31st, 2017.  Their Eco-Terr® "Venetian Terrazzo" in the shade Bergamo Black G was used by the artist Linus Ilario Spano, to re-purpose an engine spool.  The table and stools will be used in Lufthansa's new Florida head-quarter's office opening in Fort Lauderdale, FL.
This table is made out of a Rolls Royce engine spool from a Lufthansa A320 airbus, which has covered a distance of 5 million miles in its lifetime.  This means that it has circled the globe over 200 times before the part was taken out of service. Nevertheless, due to the CoveringsETC collaboration with Lufthansa to create this sculptural and functional art piece/furnishing, this spool has been re-purposed and continues to remain within the arena of aviation and design.
Eco-Terr® is a classic Future-Friendly™ product that uses Portland cement and various aggregates to create timeless Venetian Terrazzo precast tiles and slabs.  For more information contact Andrea Romero at ce@coveringsETC.com or visit www.coveringsETC.com.
About CoveringsETC: CoveringsETC was founded by visionary Ofer Mizrahi in 1998 as an innovative source for natural, recyclable and sustainable material concepts for hard surfaces. CoveringsETC provides you with analog materials in the digital era, closed-loop materials that you can feel with all of your senses, up-cycled, and fully recycled products.
Source: CoveringsETC
Share:
---
Categories: Architecture and Design, Aviation, Green Industries, International News, Table Tops and Tablescapes, Commercial Art
Tags: airbus, coffeetable, coveringsetc, ecoterr, furniture, Lufthansa, miamiironside, recycle, rollsroyce, terrazzo, upcycle, venetianterrazzo
---