Couture Fashion Week Spring/Summer 2017 Launches a New Language Into the Fashion Industry
Press Release
•
Sep 8, 2016
The Couture Fashion Week 2017 Collection launches tomorrow at the Crowne Plaza Hotel Times Square, 1605 Broadway, NY, NY. Producer, Andres Aquino will introduce new extraordinary talent into the world of luxury this season for the elite purpose of maximizing wealth to the name of Fashion, Justice, and Social Purpose. Andres Aquino will debut Couture Fashion Week New York with the latest collection called PlayBuffalo on Friday, September 9, 2016, to promote a grandmother's gift of tradition.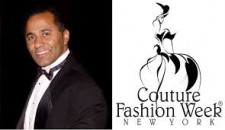 New York, USA, September 8, 2016 (Newswire.com) - American Indian Traditions will be competing on the catwalk this opening season at the Couture Fashion Week Times Square Manhattan. Native American language and culture will create the index to Fashion for the First Nation of rural municipalities as Designer; Becki Bitternose presents her "Kokums" patterns under the Pendleton Mills Wool Blanket line. Canadian Designer, Tishynah Buffalo will also supply some her finest collections during the opening show as part of the 24th season of prestigious luxury to create a Pow-wow regalia of the distinct tradition for the elite audience. Closing September 9, 2016, 6 pm Friday Couture Fashion Week 2017 Spring/Fall Collections sold out presentation will be no other than East Indian sensation, Designer, Sushma Patel. Native Slovakia, Designer, Sofia Turekova, will inspire the elite with her collection from her SOF.T label along with the first appearance from Canadian Designer, Stephanie Gamble from the Okemasis First Nation. The upcoming rising Senegalese Design star, Maria Beuthame will also make her debut during the 8:00 pm presentation with Designer, Este & Chlo, and the line New Miuz by Pawan, by Seewooruttun.
The Couture Fashion Week will run from Friday, September 9, 2016, through Sunday, September 11, 2016, with an array of International Performers that investors have supported to promote a new gain into the elite market of fashion and luxury entertainment. Producer, Andres Aquino, has emerged in the influential market of the Fashion Syndicate Industry since 2005, to associate economics and journalism into a network of purpose to strategize growth to the photo justice Fashion market today. The Global Short Film Awards Festival (New York-Cannes) has recently partnered with Zee TV network to bring content of the show to over a billion viewers within 170 countries. Andres Aquino's will be presenting his latest collection on Saturday, September 10, 2016, at 8pm called Glamour Rush for the nostalgic look of the future.
Tickets are still on sale for the Couture Fashion Week NYC show and gala at www.couturefashionweek.com
Source: Go Doctorate Go Media
Additional Links