Coronavirus Skydive Formation Colors Texas Sky
Press Release
•
updated: Aug 16, 2020
Team of 42 Skydivers Builds Airborne Replica of Virus; Show of Unity in Midst of Pandemic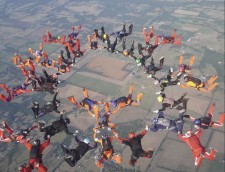 WHITEWRIGHT, Texas, August 16, 2020 (Newswire.com) - In the blue skies over Skydive Spaceland Dallas, a team of 40 jumpers succeeded in their eighth attempt to build a true-color replica of the coronavirus, with the feat recorded by 2 videographers. All members of the team wore gloves and face shields during the jump, as well as in the plane, and have been following strict safety protocols wearing masks at all times while at the drop zone.
At 8:31 AM (CT), the group lifted off ground in two de Havilland Twin Otters. They exited the aircraft at 14,200 feet AGL just before 9 and completed the formation in 41.5 seconds.
High resolution still images and video of the successful formation will be available by 5 PM CT; contact Maryann Karinch at mak@rudyagency.com to get the link.
The formation was designed and organized by Texas skydiver Larry Henderson who commented, "We wanted to show how a team of safety-conscious jumpers could confront COVID-19 in freefall. Even in these stressful times, 42 people can come together to do something extraordinary and meaningful. It's our way of showing how we can get together to get through the pandemic."
The jumpers, who represent 11 states and have logged between 241 and 12,382 skydives in their jump careers, undertook a highly challenging task requiring precision flying. The attempts leading up to the successful jump were done on the Friday and Saturday prior to the completion this morning.
Upon arriving, members of the team received T-shirts featuring an image of the virus topped by the words: "COVID It's officially airborne".
About Skydive Spaceland-Dallas
Established in 2000 by the Boyd family, Skydive Spaceland is a three-generation family drop zone business specializing in skydiving education. The first Skydive Spaceland location opened just south of Houston, Texas in 2000, and quickly grew into one of the busiest skydiving centers in the world. The drop zone is based in Whitewright, TX.
Source: PR for skydiving team