Coronavirus Business Lessons Highlighted in New DATAMARK Guide
Press Release
•
updated: May 12, 2020
The business process outsourcing firm explores the impact of COVID-19 on organizations and offers tips on addressing issues for those in the recovery process in its latest publication.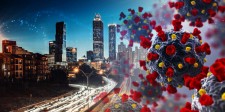 EL PASO, Texas, May 12, 2020 (Newswire.com) - DATAMARK, a leading business process outsourcing (BPO) company, recently released "Top Four Business Lessons Coronavirus Taught the World." The publication explores the most significant challenges companies faced as the pandemic hit as well as methods to overcome them and actionable tips for organizations that are in the process of responding to and recovering from the pandemic. The complete piece is available to read on DATAMARK.net.
The publication is part of a series called DATAMARK Insights. It includes a variety of materials such as reports, whitepapers, case studies, and videos designed to keep business leaders abreast of trends and best practices that can help their organizations become more efficient and profitable while maintaining quality. The series is regularly updated and is free to browse.
Only about one-third of salaried employees had the ability to telecommute before the pandemic, per research from the Bureau of Labor Statistics. Organizations with the technology and processes in place to enable remote work naturally had a much easier time pivoting when COVID-19 hit and will likely recover faster too. Those without the extended capabilities may have missed an opportunity to get ahead, but the report notes that it's not too late to get established with continuity planning. Organizations that want to ease the transition back to work or be better prepared for future issues can do so by partnering up with a business process outsourcing firm.
"One of the first things we do when speaking with a company interested in BPO is perform a comprehensive assessment," explains Nina Brown, DATAMARK Vice President of Client Solutions. "We catch continuity issues that organizations might not have considered before and help them get the processes in place to avoid costly shutdowns or delays."
Brown notes that DATAMARK clients, which include Fortune 500 companies, government agencies, and enterprise-level organizations, were better prepared for COVID-19 as a result. "We build continuity planning into everything we do, from call center management through data entry, digital mailrooms, and the entire document life-cycle," she adds.
The newly released publication explores the financial benefits of readiness and contends that organizations leveraging BPO already have efficiencies in place to keep costs low. They can also save even more by avoiding downtime and lost customers due to spotty service when unforeseen events like COVID-19 occur. Those interested in learning more about continuity planning, BPO, or running more profitable and efficient businesses are encouraged to visit DATAMARK.net.
Chelsea Hill
915-242-6117
chelsea.hill@datamark.net
Source: DATAMARK Inc.