CORAS Wins US Navy NAWCAD Contract to Support S&T Portfolios
Press Release
•
Oct 19, 2022
FedRAMP High CORAS Federal Chosen to Drive Visibility Across S&T Portfolios and Combat R&D Valley of Death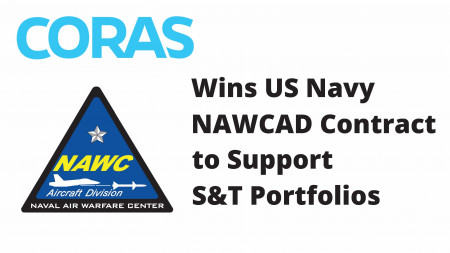 TYSONS CORNER, Va., October 19, 2022 (Newswire.com) - CORAS, a FedRAMP High enterprise decision management software as a service (SaaS) platform, has won a contract with the Naval Air Warfare Center Aircraft Division (NAWCAD) to enable visibility and transparency across programs and projects. S&T portfolio teams often struggle with siloed data and a lack of visibility and understanding of scope and context of their diverse programs and projects, as well as challenges in funding traceability and strategic alignment.
"We are proud to leverage CORAS to assist NAWCAD in combatting the 'Valley of Death' within S&T portfolios, and drive visibility and transparency to the program and project level," said Dan Naselius, President and Chief Technology Officer at CORAS. "Our mission is to support strategic alignment across NAWCAD programs and projects and enable informed tradeoff analysis for defense innovation and near-peer competition."
CORAS's unique capabilities aggregate disparate data and create a single source of truth in real time. CORAS toolsets support leadership at all levels across multiple departments to deliver real-time decision management capabilities, AI models and visualizations, core business processes, and analysis. With no rip-and-replace requirements, CORAS is up and running in days, configured to work alongside existing programs to read and codify unstructured data and provide real-time reporting for decision-makers.
CORAS is a unique Commercial Off-the-Shelf (COTS) software platform that is FedRAMP High, runs on the Non-Secure Internet Protocol Router Network (NIPRNet) and Secure Internet Protocol Router Network (SIPRNet), and is pending IL 4/5 through AWS GovCloud. As a member of the Amazon Web Services (AWS) Partner Network (APN), CORAS also participates in the AWS Public Sector Partner (PSP) Program, providing premier cloud-based solutions and supporting government, space, education, and nonprofits around the world.
ABOUT CORAS
CORAS is part of the family of companies held by Executive 1 Holding Company, LLC (EX1), a strategic partnership of leading providers of AI/ML/NLP, technology, and consulting solutions to the federal government (HumanTouch, LLC, Plasticity, Inc., and Docugraph). CORAS software can be purchased via GSA Schedule, NASA SEWP, SIBR/STTR, and multiple third parties including Carahsoft. To learn more about how CORAS supports public sector agency leaders, the DoD, and their partners to drive confident decisions and actions at mission speeds, go to CORAS.com.
CORAS is the Decision Maker's Decision Maker.
Source: CORAS
Tags
Related Files