Coralville, Iowa Resident David Chasse Wants Businesses to Know They Can Show Appreciation Through the Birthday Company
Press Release
-
updated: Feb 12, 2018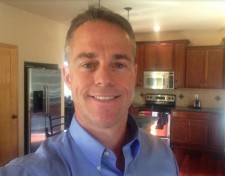 CORALVILLE, Iowa, February 12, 2018 (Newswire.com) - ​Keeping clients can come down to one crucial factor. Showing appreciation to clients could mean keeping their business for years. But one man has the answer for corporations. Coralville, Iowa resident David Chasse, founder of The Birthday Company, knows plenty about customer retention.
When companies, large and small, want to show appreciation to their clients, they turn to Chasse. His firm offers different gift levels that show appreciation to clients around the world.
"Being able to assist these corporations in saying 'thank you' to their clients has been our business model," says Chasse. "Companies trust us when handling these essential offerings of gratitude and appreciation."
Many people do not realize the time it takes to send the same contents two or three times.
During these times, the amount of money to gain new clients outweighs the amount of keeping current ones. Because of this fact, companies are dedicating more funds towards keeping current clients. Not losing their essential business has become a top priority for these companies.
In recent years, it has remained proven that focusing on customer retention equals an increase in revenue. When customers feel appreciated, they keep their business with that company.
Budgets for All Levels of Businesses
The Birthday Company offers different gift levels for all budgets. These gift levels range from $2.95 to $55.95 and provide all types of various appreciation ideas.
"Whether the budget for a company is small or large, there's a level for everyone," adds David Chasse. "It doesn't take much effort to let your customers know you are thinking of them on their most important days throughout the year."
That special touch can go a long way for companies. Because The Birthday Company's prices are not troublesome, the margin of profit when keeping customers remains worth the cost.
There are different aspects of The Birthday Company that appeals to companies, large and small. First, there are no contracts, setup fees, service fees, or a minimum number of required clients. Corporations become charged only when they use The Birthday Company's services.
"If a company wants to send a small budget gift to a client, they can do that," says Chasse. "Whether they have one or thirty clients, our clients will never get charged more than what they order."
Plus, The Birthday Company utilizes a high-resolution image for the signature on packages and greeting cards. The picture features the name of whomever the company wants on the packaging and card. While to some, this does not seem like a big deal, but when you factor in the cost, it makes sense.
This feature eliminates the need to send the gift to the corporation for signatures. The company would then have to send back to The Birthday Company for shipment. The money saved on two deliveries makes a world of a difference. Also, packages can now become forwarded on time instead of waiting for companies to sign various documents.
"Many people do not realize the time it takes to send the same contents two or three times," David Chasse adds. "When you need a specific item delivered on a particular date, time becomes sensitive. Eliminating the sending back and forth of the same item saves time and money. Our high definition signature image has become revolutionary in our industry."
Easy Setup Online For Accounts
Finally, a company that wishes to sign up with The Birthday Company can do so online. The account setup bears no cost and with the uploading of a spreadsheet, their full database of names and addresses can be in the system in minutes.
Each name and address features essential dates throughout the year. A company sets a budget for each date, having been reminded by the system a week before that occasion.
"We really hope the easiness of our system and a wide selection of gift levels appeal to our customers," Chasse concludes. "Companies can show appreciation for years to come."
To visit the Birthday Company's website, please click here.
Media Contact:
​Eric Blankenship
​Eric@Netreputation.com
786-332-6554
Source: Web Presence, LLC
---
Categories: Business News, Business to Business, Business
Tags: David Chasse, David Chasse Coralville, David Chasse Iowa
---