Contractor Anthony Carrino Shows Cool DIY Projects to Remodel the Home This Spring
Press Release
•
updated: Apr 4, 2018
Home Improvement TV Host and DIY Star Shows TipsOnTv Innovative Products and NEW Methods to Improve the Home on a Budget.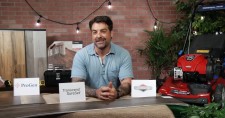 ATLANTA, April 4, 2018 (Newswire.com) - Warmer days and shorter nights often inspire people to finally begin those DIY home projects. In fact, creating a beautiful and comfortable home is an essential part of happiness, according to Anthony Carrino, best known for his starring role as co-host of HGTV's "Kitchen Cousins", and several other popular shows. Just in time to spruce up your home for spring, Anthony has some affordable ideas and products to create or rejuvenate a home.
A spring home project people can do themselves that will make a big difference.
The kitchen is a place to make a big statement in a home start with flooring. A beautiful floor can transform a home and Tarkett's next-generation flooring withstands the rigors of modern life. Tarkett is known for making high-quality home flooring that is super durable and easy to install. Their latest ProGen collection gives the look of real hardwood but can be installed in any room, including three-season rooms, kitchens, bathrooms, or even basements that see an occasional puddle. ProGen is waterproof, resists scratches and indentations, and clicks easily into place for quick installation. All one needs is a basic utility knife! For more information, visit residential.tarkett.com.
Flooring the average person can install.
The average person can install flooring. For instance, DIYers should see how quickly they can transform any space in the home with Tarkett flooring. One of their most popular DIY products is Transcend SureSet. This repositionable flooring will transform any room in a single afternoon. With its pre-applied adhesive, each plank can be repositioned up to 10 times, so it really is difficult to make a mistake. Transcend SureSet is fully waterproof as spills are easily wiped away and will not damage the floor. Even in a leaky basement, tiles can be lifted and set back in place when the concrete dries. For more information, visit residential.tarkett.com.
Where to start when sprucing up the outside of a home.
Spring is here, and it is simple. Start the spring spruce up by checking the lawn mower, which includes changing the air filter, checking the air intake and sharpening or replacing the blades. Anthony says that one tip to know is that mowing technology has come a long way in the last five years. New engine innovations from Briggs & Stratton can help people renew their lawn routine and get the yard of their dreams. With features like, InStart from Briggs & Stratton which allows for never having to pull a rope again, Just Check & Add which eliminates the messiest and most time-consuming seasonal mower maintenance-oil changes, Quiet Power Technology which lets people work without bothering their neighbors and Mow N' Stow which makes storage easy. For more information, visit www.briggsandstratton.com.
www.tipsontv.com
Contact: tipsontv@gmail.com
Source: www.tipsontv.com
Related Media