Conterra Networks Selects Mapcom Systems' M4 Solutions for Visual Operations Support System (OSS)
Press Release
-
updated: Mar 28, 2018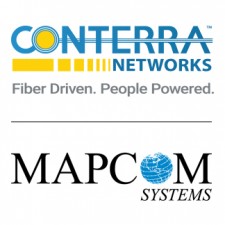 RICHMOND, Va., March 28, 2018 (Newswire.com) - Mapcom Systems, a global leader in visual OSS and BSS software solutions for telecommunications service providers, today announced that Conterra Networks has begun the implementation of Mapcom's M4 Solutions Suite to accelerate the service fulfillment process and manage the planning, buildout and maintenance of their broadband network. The M4 Solutions Suite enables fiber-optic service providers, like Conterra, to drive operational efficiency and enhance customer satisfaction while easily identifying increased revenue opportunities using geographic data visualization. With a geographically correct network OSS, Conterra will be more responsive to profitable opportunities and market conditions, while effortlessly fulfilling automated, companywide reporting requirements.
Conterra is a fast-growing company that provides service in almost half the United States. Their business advantage is in building and managing fiber-rich networks that are not limited by oversubscribed legacy technology platforms. Instead, Conterra offers flexible architectural designs and virtually unlimited bandwidth capacity. By utilizing Mapcom Systems' award-winning M4 software, Conterra will have visibility to its entire network and additional relevant data from third-party vendors in one system, thus enhancing business intelligence and cross-departmental collaboration. Utilizing Mapcom Systems' Data Integration Engine, data will seamlessly be integrated from other systems of record into M4 to allow centralized operations management and allocation of resources to efficiently handle dynamic business challenges, such as locate requests across multiple states and more.
"At a prior company, the most responsive customer-focused partner with whom we worked was Mapcom Systems," said Craig Gunderson, president and COO of Conterra. "As we were looking to scale our business, speed our ability to respond to customer opportunities and reduce locate costs, we immediately thought of Mapcom."
"Conterra is one of a new breed of 'on-demand' service providers whose business model requires a robust, integrated operations platform through which their employees and departments communicate effectively and efficiently," said Chuck Flournoy, president of Mapcom Systems. "We are delighted that they have chosen Mapcom and our M4 Solutions Suite as that platform. The entire Mapcom team is committed to ensuring that Conterra is able to deliver the next generation of performance excellence."
For additional information, please visit www.mapcom.com/solutions/m4-solutions/
About Mapcom Systems
Mapcom Systems is the developer of M4 Solutions Suite, a visual operating system that helps communications providers manage their workforce and networks, including both outside and inside the plant, at the physical and logical levels. Mapcom Systems serves communications providers around the world, but primarily those in rural areas across the United States.
About Conterra
Conterra is one of the largest remaining independent broadband infrastructure companies in the United States based on its fiber assets and revenues. The company is majority owned by Court Square Capital, a private investment firm with approximately $5 billion under management, with the remaining ownership largely held by Conterra's management team. The company's other institutional financial partners include Toronto Dominion Bank, Bank of America, CoBank, ING Capital and Antares.
Media Contact:
Todd Stayin​
Phone: 804-743-1860
​Email: marketing@mapcom.com
Source: Mapcom Systems
Share:
---
Categories: Telecommunications, Computers and Software
Tags: Conterra, M4 Solutions, Mapcom Systems, OSS
---