Consumer Acquisition Expands Creative Marketplace to Support Facebook, Instagram, Google UAC, SnapChat, Pinterest and IAB Ads With a Trello-Like Creative Approval Platform and Enhanced Creative Analytics
Press Release
-
updated: Sep 4, 2018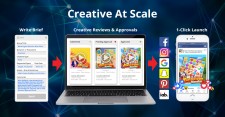 SAN FRANCISCO, September 4, 2018 (Newswire.com) - Consumer Acquisition - the most trusted provider of creative, SaaS tools and user acquisition services for social advertising - is excited to announce the expansion of their Creative Marketplace with new social platform partners, enhanced analytics capabilities and seamless creative collaboration tools. The creative-first approach for brands and advertisers will now support Facebook, Instagram, Google UAC, SnapChat, Pinterest and IAB ads within a unified platform that brings a best-in-class end-to-end solution.
The Consumer Acquisition Creative Marketplace helps to manage and bolster the creative process for advertisers by producing videos and images for advertising, providing advanced creative analytics and workflow optimization, while offering an internal team of highly trained editors and designers on tap to build and optimize creative units. The platform's additions were designed to complement Facebook and Google's machine learning algorithm updates that have automated intraday optimization driving ad creative to become the primary differentiator for social advertising performance.  
The expanded platform provides social advertisers a simplified approach to the creative approval processes with an easy-to-use, Trello-like task manager that gathers and centralizes feedback, tasks and action items to create universal transparency while allowing advertisers the ability to create and manage unique workflows. Additional features include the ability to see information at-a-glance in order to monitor both the big picture of any campaign or note specific details across custom boards, as well as to seamlessly unify communications across stakeholders.
The industry-first creative analytics component of the platform will help to show ad effectiveness while driving the ability for enhanced concepting and development. Visual-based graphs will allow advertisers the ability to compare performance of any ad creative, regardless of the date of launch, to uncover high-performance ads and audiences, while intelligent tags and tag clouds help to identify winning creative elements, displays gaps in ad creative or audience coverage to inform the creative brief process.
Brian Bowman, CEO of Consumer Acquisition, states: "We know that creative is the most important element in social advertising and we're honored to be working with many top advertisers on Facebook. We're thrilled to deliver on their request for support of SnapChat, Pinterest and the mobile web via IAB ads. We've simplified their creative approvals and collaboration with a Trello-like task manager. We've enhanced our advanced creative analytics to help guide strategic decisions on which ads are working well and produce the highest ROI vs which ads are burning out and need to be redesigned."
To learn more about Consumer Acquisition's tools and services, visit www.consumeracquisition.com.
About Consumer Acquisition
Founded in 2013, Consumer Acquisition is the most trusted provider of creative, SaaS tools and user acquisition services for advertising on Facebook, Instagram, Google UAC, Snap and Pinterest. We're trusted partners for creative strategy, production, optimization and analytics of social advertising. We've created over 300,000 videos and acquired over 150 million app installs and leads for Glu Mobile, Wooga, Ember Entertainment, Nodding Frog, Checkout51, Autogravity and many more. For more information, visit www.consumeracquisition.com.
Facebook® is a registered trademark of Facebook Inc.
Google® is a registered trademark of Google Inc.
Media: Press@ConsumerAcquisition.com
Source: Consumer Acquisition
Share:
---
Categories: Advertising, Online Gaming
Tags: Consumer Acquisition, Creative Marketplace, Facebook Advertising, Google Advertising, IAB, Online Advertising, Pinterest, SnapChat
---