Construction Begins on a New Headquarters for Next Generation Ministry PULSE
Press Release
•
updated: Mar 21, 2019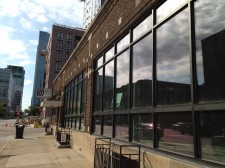 MINNEAPOLIS, March 21, 2019 (Newswire.com) - PULSE, a global, next generation ministry based in Minneapolis, will be moving into their new downtown headquarters this summer. Construction began this month to build out their 16,000 square-foot vintage space at 600 S 9th Street. The mission of PULSE is to awaken culture to the reality of Jesus, and plans for this new headquarters include leadership training intensives, an enhanced internship program, and a media studio/creative space for digital ministry efforts.
"We are investing in the next generation—believing that they will bring revival. We're creating a culture that draws in talent, fosters creativity, and executes world-class campaigns," said Nick Hall, the Founder and Chief Communicator of PULSE.
PULSE began on a college campus in North Dakota and first officed out of a church basement. Since those humble beginnings in 2006, PULSE has shared the message of Jesus with nearly five million students through live events. Today, PULSE is focused on multiplication—multiplying their efforts to make Jesus known and multiplying the number of millennials and gen z'ers who are following Jesus and sharing His message.
Nick Hall and his team at PULSE have hosted some of the largest Jesus gatherings of the past decade. Last year, PULSE organized an event at U.S. Bank Stadium called Pulse Twin Cities. The eighteen-month campaign brought together more than 700 partnering churches, trained 10,000 individuals to share their faith, and culminated with a 45,000 next generation event that included a world record breaking pillow fight.
This spring, PULSE will hold UNITE on the National Day of Prayer at Grace Church in Eden Prairie on May 2. UNITE, an annual event in the Twin Cities, is a prayer and worship event for the next generation. This year's event includes music from Hillsong NYC worship and KB along with a message from Nick Hall. More information for this free event can be found at unitendop.com.
About PULSE
Founded in 2006, PULSE is a Minneapolis-based, millennial-led prayer and evangelism movement on mission to awaken culture to the reality of Jesus. For more than a decade, PULSE has hosted some of the largest Jesus gatherings for the next generation. They've impacted nearly five million students and young adults through live events and were in front of nearly one million in 2018 alone. PULSE Founder, Nick Hall, is a leading international voice in the cause of evangelism and the author of the book, Reset: Jesus Changes Everything. Learn more at pulsemovement.com.
About Nick Hall
Nick Hall is the visionary of the Together movement, author of the book Reset, and the Founder and Chief Communicator for PULSE, a ministry at the center of some of the largest millennial-led prayer and outreach efforts in the world. As an evangelistic voice to the next generation, Nick Hall has shared the Gospel at hundreds of events to nearly four million students and is regularly featured as a speaker for pastors' gatherings, student conferences, training events, and festivals around the world. Nick is the President and CEO of The Table Coalition (formerly Mission America Coalition), sits on the board of the National Association of Evangelicals, and is part of the student advisory team for the Billy Graham Evangelistic Association (BGEA). Nick, his wife, Tiffany, and their two children live in Minneapolis, MN.
Facebook: /NickHallPulse Instagram: @nickhallpulse Twitter: @NickHall​
###
Media Contact:
Susan Harris
Phone: 612.559.4188
Email: susanh@pulsemovement.com
Source: PULSE