Connect Financial Launches New Brand Identity and Website
Press Release
•
Oct 26, 2021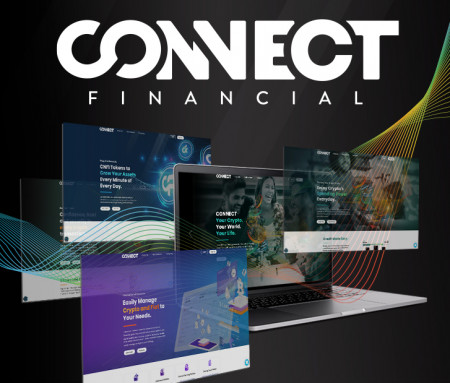 CALGARY, Alberta, October 26, 2021 (Newswire.com) - Connect Financial, an innovative cryptocurrency financial platform, announces today the launch of its revolutionized brand identity and website.
Connect Financial has grown their business significantly over the past several months, transforming the core platform offering to serve the cryptocurrency customer base better. Their brand needed to reflect where their business stands today, the tremendous value they bring and to support their future growth.
Unveiling the New Visual Identity
Connect Financial's new brand identity reflects their transformation and strategy to emphasize their commitment to empowering customers worldwide in connecting their cryptocurrency, traditional banking methods, financial goals, and lives in harmony. No longer is cryptocurrency an unattached asset from our everyday lives. As more and more adoption occurs daily from users to businesses accepting digital assets - Connect Financial strives to be the leader in establishing the bridge between traditional financial methods and new digital fintech. Every aspect of their platform is interconnected - bringing users to their fiat, credit, digital assets, investments, earnings, financial goals and management under one holistic platform. The new identity is an evolution of the previous identity, with a look and feel that embodies their determination and genuine focus to bring tangibility to digital assets.
The brand identity represents "interconnection" through the combination and overlapping of its letterforms. They have positioned one element - to express their customers - "the last C" in the brand identity - to stand out as its own individual form, even though all letters surrounding merge with it. Connect's customers and how they engage with the platform is as unique and tailored to their needs as they are unique themselves. They are their focus. Connect combines every aspect of their ecosystem products, features and tools for people globally to effortlessly manage crypto to fiat financial goals with balance, flexibility and simplicity in their lives.
The brand color methodology is robust and brings legibility, contrast and emphasis on the connected elements as a singular color. It's white on a dark background, black on a light background. Evoking accurate color psychology and reaction into an identity is imperative to make an emotional connection, improving its memorability with its viewers. White is known psychologically to bring forth happiness, sincerity and purity, while black is known for its sophistication, power and elegance. These are the psychological impacts Connect Financial wants to evoke when referencing financial engagement. The brand's secondary hues are interjected with full-color spectrum voluptuous schemes for every product segmentation to represent diversity and inclusion.
Enriched Product Suite
Connect Financial's website launch focuses on featuring the entire Connect product ecosystem. Expanding from the original focus on bringing to market the first genuine crypto-backed Visa credit card - to encompassing their leading digital wallets, earn products and CNFI tokens. Granular details, features, functionality and benefits are showcased and well-articulated for each product segmentation.
Visit Connect Financial to learn more about their business and products.
For marketing inquires email marketing@connect.financial
Source: Connect Financial