Congressional Black Caucus and Tech With Soul Invite Lola Vision Systems Founder Tayo Adesanya to 52nd Annual Legislative Conference to Lead Discussions on the Future of AI
Press Release
•
Sep 21, 2023
Topics will include electric vehicles, aerospace and defense and how artificial intelligence impacts these industries and its impact on future of work for Black communities.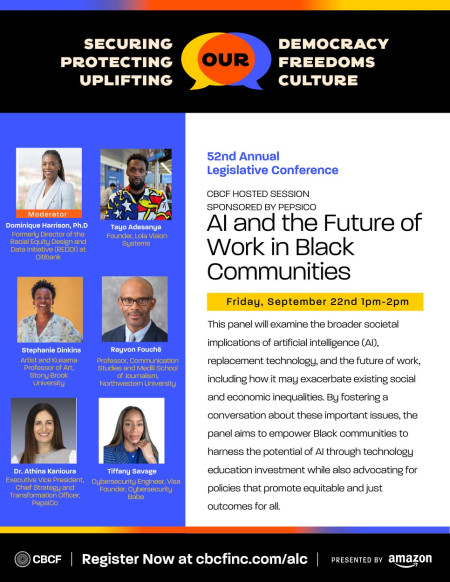 WASHINGTON, September 21, 2023 (Newswire.com) - The Congressional Black Caucus (CBC) has announced that Tayo Adesanya, Founder and CEO of Lola Vision Systems, will be a featured presenter and panelist at the 52nd Annual Legislative Conference, September 20th and 22nd. Adesanya kicked off on Day 1 at Tech With Soul's Black Entrepreneurs in Technology Showcase, where he shined a spotlight on how Lola Vision Systems is addressing global challenges by utilizing artificial intelligence (AI) and computer vision technology to build smarter and safer electric vehicles. Adesanya provided insights on both the automotive chip market which exceeded $52 billion in 2022 and the global electric vehicle market, projected to reach $693 billion by 2030.
Consequently, he will discuss how Black tech entrepreneurs and engineers can help shape this emerging industry. On Day 3 of the conference, Adesanya will address the CBC and attendees on the important topics of AI, the future of work for Black communities, and the role of technology in advancing equity and opportunity.
With over 12 years of experience in the semiconductor and high-tech electronics industries, Adesanya is well-positioned to discuss AI's impact on work. He previously held senior sales engineering roles at leading tech firms like Synopsys, SiFive, Microchip, and ON Semiconductor. Adesanya has Electrical Engineering Technology degrees from Purdue University and an MBA from Arizona State University. Following his engagements in DC, Adesanya will travel to his alma mater, Purdue University, where he will lead an empowering discussion with current students in partnership with fellow Purdue engineering graduate and Delta Airlines principal avionics engineer, Jordan Page. To conclude his run of speaking engagements for the month, Adesanya will be a featured speaker at TEC Leimert, Los Angeles' largest Black-owned and operated technology and entertainment conference.
Beyond his own entrepreneurial ventures, Adesanya actively works to inspire youth to pursue careers in science, technology, engineering, arts and math (STEAM) fields. He founded a benefit corporation, Agbara Life, which hosts STEAM workshops for Black youth across the country.
Whether it's youth, college students, colleagues or members of congress, Adesanya has made it a key part of his mission to provide accessible insights on AI, the future of work, and the role of Black tech leaders in building an equitable and inclusive technology ecosystem.
In addition to his esteemed career accomplishments, Adesanya is the proud father of two beautiful girls Adelani and Adelola Adesanya - the latter of which serves as the namesake behind his company Lola Vision.
Source: Lola Vision Systems