Computer Guidance Corporation Releases Self Service Time Entry
Empowering the Workforce and Management to Collect, Validate and Approve Labor Time and Costs On Demand
Press Release
-
updated: May 24, 2017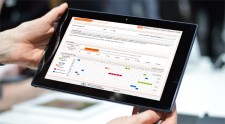 Scottsdale, AZ, May 24, 2017 (Newswire.com) - Computer Guidance Corporation, the leading developer of cloud-based ERP solutions for the construction industry, today announced that their popular Human Resources Self Service (HRSS) application has been enhanced to include Time Entry functionality that supports the collection, validation, workflow approval, and processing of labor hours. 
Human Resources Self Service (HRSS) application allows managers and employees to access and manage human resources-related information through an intuitive, browser-based interface promoting automated business processes and paperless environments. Without additional costs and licenses, the HRSS application now also allows users to enter, review, edit and process labor time on demand from anywhere and anytime for improved productivity, decreased costs and greater employee satisfaction. Time can be assigned to jobs or departments and labor cost types can be selected on the fly. The entered and approved information is automatically integrated with eCMS HR and Payroll applications for further processing.
"Today, more than 45,000 users utilize HRSS to access paystubs, company announcements, handbooks, health and 401(k) benefits, vacation requests, and much more — saving our customers' HR departments thousands of hours annually," said Mike Bihlmeier, President, Computer Guidance Corporation. "HRSS Time Entry will decrease administrative expenses, speed data collection and lead to smarter decision-making."
About Computer Guidance Corporation
With over 20% of their client-base represented on top ENR lists, Computer Guidance Corporation has long delivered the leading construction-specific enterprise resource planning solution including financial and project management applications, #1 business intelligence, mobile technologies and enterprise content management.  Scalable, custom configurable and available both cloud-hosted and on-premise, eCMS serves the needs of thousands throughout North America and has been named as the ERP solution of choice by the AGC. Computer Guidance Corporation is part of JDM Technology Group, a global construction-specific software conglomerate that serves more than 100,000 users in 40 countries and 6 continents. 
Source: Computer Guidance Corporation
---
Categories: Enterprise Resource Planning, Civil Engineering, Construction, Engineering, Cloud computing, Enterprise Resource Planning (ERP)
Tags: CGC, cloud software, construcitonsoftware, constructionERP, constructionmanagementsoftware, constructionprojectmanagement, ecms, hosted construction software, humanresourcesoftware
---