Compassionate Help in the Aftermath of Greece Fires
Press Release
•
updated: Aug 10, 2018
Scientology Volunteers, on hand to aid since the July 23 conflagration that destroyed the town of Mati, Greece, continue to bring help and comfort to those in need.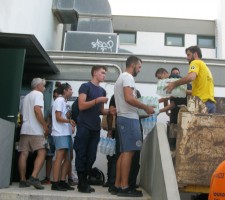 ATHENS, Greece, August 10, 2018 (Newswire.com) - Record-breaking temperatures and gale-force winds combined to create Greece's deadliest fire in decades. Worst hit was the resort town of Mati, some 20 miles east of Athens — now entirely destroyed. Scientology Volunteer Ministers (VMs) from the Dianetics and Scientology Center of Athens have been helping emergency workers cope with the disaster, distributing water and food. They also collected and distributed two truckloads of supplies and are helping with the clean-up effort.
In addition to caring for the immediate needs of those affected, the volunteers also provide Scientology assists — techniques developed by Scientology founder L. Ron Hubbard that address the emotional and spiritual factors in stress and trauma. These simple procedures have come to be known as "spiritual first aid."
One of the Volunteer Ministers offered an assist to a social worker in the nearby town of Rafina, where most of the disaster response has been located. After receiving an assist, she was able to relax — something she had been unable to do since the fire broke out — and told the Volunteer Minister, "Now I will be able to get some sleep for the first time since this happened."
Their bright yellow shirts have become a welcomed sight in the community as the Volunteer Ministers return day after day to help.
The Church of Scientology Volunteer Minister program is a religious social service created in the mid-1970s by L. Ron Hubbard. Anyone of any culture or creed may train as a Volunteer Minister and use these tools to help their families and communities. The church provides free online training on the Volunteer Ministers website.
In creating the Volunteer Ministers program, L. Ron Hubbard wrote, "If one does not like the crime, cruelty, injustice and violence of this society, he can do something about it. He can become a Volunteer Minister and help civilize it, bring it conscience and kindness and love and freedom from travail by instilling into it trust, decency, honesty and tolerance."
Source: Scientologynews.org
Related Media