Community Leaders Confident After Drug-Free World Workshop
Press Release
•
updated: Mar 23, 2018
A group of drug education professionals and representatives of community groups feel ready to tackle talking to kids about drugs after attending a Drug-Free World training session at the Church of Scientology Sacramento.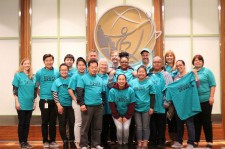 SACRAMENTO, Calif., March 23, 2018 (Newswire.com) - With an estimated 2,000 Californians dying of opioid overdose in 2016, representatives of various community groups and drug education professionals from Northern California had a strong motivation for attending the in-depth training program on the Truth About Drugs initiative March 10 at the Sacramento Church of Scientology.
There is a much more critical need for this type of training said Mike Klagenburg, public affairs director of the Church of Scientology Sacramento who coordinates the local chapter of the Foundation For a Drug-Free World.
The Truth About Drugs booklets provide up-to-date information on the most commonly abused drugs including marijuana, painkillers (opioids), prescription drugs and synthetic drugs. The materials include 14 drug education booklets, an Educator's Guide, posters, the Truth About Drugs: Real People Real Stories documentary and They Said — They Lied public service announcements on DVD. Sets of these materials were presented to all attending the training session.
On watching excerpts of the documentary and PSAs, one attendee commented how much impact they had on her. And that is the point. The program is designed to break through complacency and fixed ideas on the subject and give kids the factual data they need about what drugs are and what they do.
Attendees came away feeling more knowledgeable and with increased confidence about delivering drug education to individuals and groups in their respective communities.
The training also offered a unique approach that attendees described as "learning something new rather than saying drugs are bad for you and you should just say no." They saw how the Truth About Drugs program would engage youth and have them really look at what they want to do with their lives. It also provided "good practice on answering tough questions," one student added.
The Church of Scientology and its members are dedicated to eradicating drug abuse through education. Through their support of the Foundation for A Drug-Free World, they provide these materials free of charge as a public service and they invite the participation of all who share the goal of a drug-free world.
Referring to the devastating impact of drugs on society, author, humanitarian and Scientology founder L. Ron Hubbard wrote, "The planet has hit a barrier which prevents any widespread social progress — drugs and other biochemical substances. These can put people into a condition which not only prohibits and destroys physical health but which can prevent any stable advancement in mental or spiritual well-being."
For more information about the Church and the Foundation for a Drug-Free World visit the Scientology website.
Source: ScientologyNews.org
Related Media