Community Forum on the Source and Eradication of Racism
Citizens Commission on Human Rights and the Church of Scientology Nashville invited community leaders to a meeting to bring about positive change by exploring the roots of American racism.
Press Release
-
updated: Feb 9, 2018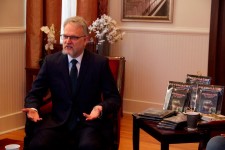 NASHVILLE, Tenn., February 9, 2018 (Newswire.com) - The Nashville chapter of Citizens Commission on Human Rights (CCHR Nashville) held a special breakfast meeting in late January to explore a serious topic: racism in pop culture and advertising and its roots.
"CCHR is committed to helping people secure their rights, and this includes revealing the sordid history of racism," said CCHR Nashville board member and pastor of the Nashville Church of Scientology, Brian Fesler. "The only way to overcome racism is by knowing the truth. Racism is not natural. It is learned and we need to know its source." 
Guests were shown two chapters of the film Psychiatry: An Industry of Death—"Creating Racism" and "Men Behind the Holocaust." 
The film documents the role of psychiatrists in America, South Africa and Nazi Germany in creating and popularized theories that promote the suppression of people of color and the elimination of "unwanted races." Attendees were outraged to learn that among these were Nazi psychiatrists who helped establish the killing centers of the Holocaust but were never convicted of war crimes. 
Those attending realized that the distorted theories of these eugenicist psychiatrists form the basis of racism to this day.  
This meeting was one of a series of programs CCHR Nashville organizes at the Church of Scientology Nashville to give local leaders insight into patients' rights and parents' rights and alert them to destructive practices and trends in the field of mental health.
Citizens Commission on Human Rights is a nonprofit charitable mental health watchdog co-founded in 1969 by the Church of Scientology and professor of psychiatry Dr. Thomas Szasz. It is dedicated to eradicating psychiatric abuse and ensuring patient protection.
With headquarters in Los Angeles, California, CCHR International guides a global human rights advocacy network of some 180 chapters across 34 nations. CCHR Commissioners include physicians, psychiatrists, psychologists, lawyers, legislators, government officials, educators and civil rights representatives.
Read the article on the Scientology Newsroom.
Source: ScientologyNews.org
Share:
---
Categories: Religion, Psychiatry and Psychology, Human Rights
Tags: CCHR, Citizens Commission on Human Rights, eugenics, human rights, Nashville, Nazi, psychiatry, racism
---