Comics App Macroverse Scores First Eisner Award Nomination With Adaptation of Jason Brubaker's reMIND!
Press Release
-
updated: Jun 10, 2020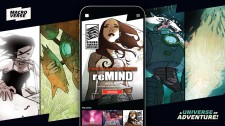 LOS ANGELES, June 10, 2020 (Newswire.com) - Macroverse Media is proud to announce their adaptation of Jason Brubaker's graphic novel reMIND has been nominated for an Eisner Award in the best Web Comic Category. ​
Macroverse has created a unique "TapStory" reading experience designed to make comics feel truly native on people's phones. Each series is crafted specifically to take advantage of the format. 
reMIND is a beautifully illustrated, all-ages adventure in the spirit of Hayao Miyazaki. When Sonja's cat goes missing, she little suspects that his return will plunge her into a fantastical world of brain transplantation, lizard-men, and the perils of unchecked power.
"It's a dream come true to be nominated for an Eisner," said reMIND creator Jason Brubaker. "The Macroverse format excited me from the start. It's the first thing I've seen that feels genuinely additive to the reading experience on a phone."
"Jason's enthusiasm for our format and storytelling aesthetic has been tremendous," said Eben Matthews, Macroverse Chief Creative Officer. "Bringing his incredible art and story to life in this way has been creatively and personally rewarding. This recognition should be inspiring to all independent storytellers and creators."
reMIND has received wide acclaim from readers and creators alike. "Brubaker's work belies a curiously mature and seasoned sensibility ... His fluid compositions, generous use of blacks, compact economical pen line, and astoundingly gorgeous color sense are yummy stuff indeed. Discover why Jason Brubaker's unique characters will show he's definitely arrived in the field of comics." - Sam Keith, Creator of The Maxx​
reMIND is created, written and drawn by Jason Brubaker, with lettering and adaptation by Macroverse creative.
Experience reMIND on Macroverse Today
Download Macroverse for iOS or Android right now, and read reMIND free on the app.
Download for iOS here: https://apple.co/2CaInsG
Download for Android here: http://bit.ly/2EuxlfL
With the app installed, the direct link to reMIND is here: https://is.gd/T7rafM
—-
About the Macroverse App
Conceived as a platform to propel comics into the digital age, Macroverse focuses on innovative storytelling custom-built for mobile devices. This approach combines bite-sized episodic content with binge-worthy serialized narratives that celebrate the strengths of the traditional comics format while exploring new creative opportunities only possible in a modern digital experience.
Additionally, by removing the gatekeepers to traditional publishing, Macroverse offers creators the opportunity to monetize their work and connect directly with fans in an exciting new format. Learn more and download the app at www.Macroverse.Media
Media contact:
Adam Martin:
Email: Adam@Macroverse.Media
Source: Macroverse Media, Inc
Share:
---
Categories: Entertainment
Tags: anime, comic book, comics, entertainment, fantasy, graphic novel, miyazaki, sci-fi
---