ColorsKit Pilot Program Kicks Off in Gujarat's Special School
Insufficient bandwidth of services and resources, inadequate staff training and a pervasive lack of awareness have always posed enormous challenges when it comes to ensuring high-quality education and occupational support for individuals with special needs in India. Times, however, are changing now for the better.
Press Release
-
Dec 24, 2015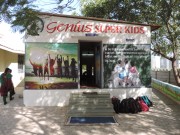 Vadodara, Gujarat, December 24, 2015 (Newswire.com) - ​​​ColorsKit, winner of AT&T Civic App Challenge Award in 2015 and Verizon Powerful Answers Award in 2014, is introduced at Genius Super Kids, a division of Genius English Medium School in Rajkot, Gujarat, as part of WebTeam Corporation's vision to improve special education practices and learning outcomes for differently-abled children and adults in under-served countries.
The goal of the program is to deliver early intervention and support services, besides spreading autism awareness in urban India. The ColorsKit toolkit is designed to optimize various self-regulatory skills in individuals with autism and other special needs. The automatic data collection technology embedded in all ColorsKit apps assists special educators in setting individualized education program (IEP) goals in an efficient way.
"The first phase of this pilot program will involve 27 children on the autism spectrum, attention deficit hyperactivity disorder, cerebral palsy and other conditions. As most of them need support with activities of daily living, the life skills program can be very helpful if it is tweaked to match our curriculum. For the time being, we are working on the early intervention component of ColorsKit," said Bijal Harkhani, special education teacher at Genius Super Kids.
"The ColorsKit team is looking forward to work with the Genius team. Our focus will initially be on gaining an understanding of the challenges and needs typical to Indian children," program coordinator Dhara Desai said, assuring that changes in the format, features and content of the program will be made as and when required.
"We can get you the resources and expertise necessary not only to raise awareness but also to make optimum use of your own intervention and teaching methods," WebTeam CEO Nish Parikh emphasized in an open call to teachers and therapists working with the special needs community in India.
Addressing the issue of lack of awareness among the mainstream population, Mr. Parikh urged Indian parents to frankly discuss autism and other developmental conditions with their children. "Autism, like puberty and reproductive health, is not an uncomfortable topic in most of the U.S. households. I know many American parents who not only talk about the full spectrum of health with their adolescent kids but also encourage them to participate in community services. I would really love to see more and more Indian parents instilling a sense of mature responsibility in the future generation of this great nation."
Various government and non-government reports indicate that one in 250 children has autism in India. The total number of affected individuals is estimated to be 10 million.
Share:
---
Categories: Educational Technology, Curriculum and Course Materials, Gifted and Talented Education (GATE)
Tags: Autism Awareness, Autism Management, ColorsKit, Early Intervention, Gujarat, Mobile Apps, Pilot Program, Special Needs Education, WebTeam Corporation
---