Colorado Small Business Defaults Down in December, as is Borrowing
Press Release
•
updated: Feb 15, 2018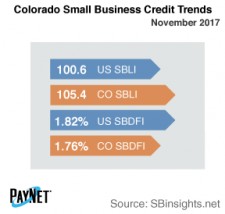 Denver, CO, February 15, 2018 (Newswire.com) - Data published by PayNet indicate that the percentage of Colorado's small businesses defaulting on loans has fallen and the level of borrowing activity worsened in December 2017.
Following a 6 basis point fall from November, Colorado's PayNet Small Business Default Index (SBDFI) at 1.74% was 9 basis points less than the national SBDFI level of 1.83%. The national SBDFI has remained steady over the last year, whereas Colorado's SBDFI declined 27 basis points.tes in Colorado were Mining, Quarrying, and Oil and Gas Extraction (3.31%); Transportation and Warehousing (3.14%); and Information (3.08%). Nationally, Mining, Quarrying, and Oil and Gas Extr
The three industries with the highest default raaction had a default rate of 2.70%, with a difference of -2.18% compared to the prior year, while Colorado had a variance of -3.93%.
The PayNet Small Business Lending Index (SBLI) for Colorado was 103.5, outperforming the national SBLI level (100.3) despite falling by 1.6% from last month's state level. The Index is basically unchanged from a year ago.
" Declining default rates in Colorado over the past year signal improved financial health in the state," asserts William Phelan, president of PayNet.
Source: PayNet
Related Media