Colorado River Tops the List of the 10 Most Visited White Water Rafting Locations
Press Release
•
Apr 5, 2023
Visited Travel App Highlights the Most Visited White Water Rafting Spots Based on International Travelers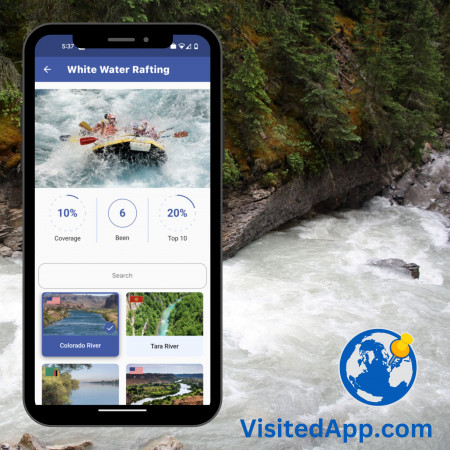 TORONTO, April 5, 2023 (Newswire.com) - The travel app Visited by Arriving In High Heels Corporation has published a list of the top 10 white water rafting destinations in the world. Visited is a popular app that allows users to track travel, mark off where they've been, get a custom map of their travels, and discover new bucket list destinations.
According to users of the Visited app, these are the most popular white water rafting spots around the globe:
Colorado River is the most-visited white water rafting destination in the world, with rolling rapids along the scenic river in the western U.S.
Tara River entices adventurous travelers with white water rafting through Montenegro and Bosnia and Herzegovina in Europe.
Zambezi River in southeast Africa offers some of the best white water rafting in the world, with challenging class 3 to 5 rapids.
Snake River in the U.S. Pacific Northwest offers breathtaking views and accessible white water rafting that is suitable for all abilities.
Rio Pacuare in Costa Rica offers white water rafting through rainforests and canyons on the river that flows into the Caribbean Sea.
Neretva River flows through Bosnia and Herzegovina and Croatia and features stunning views of the Dinaric Alps and class 3 rapids for all levels.
White Nile in Africa offers thrilling white water rafting with class 4 and 5 rapids.
Dobra River in Croatia has light to medium rapids for all levels of rafters.
Cetina River in Croatia has beginner-friendly white water rafting and picturesque natural views.
Shotover River on the South Island of New Zealand offers exciting white water rafting with class 3 to 5 rapids and rugged canyon views.
To see more travel lists with the most visited destinations around the world, get a customized travel map, and set travel goals, users can download Visited on iOS or Android.
Get the full Visited 2022 travel report for more travel stats with the most visited destinations based on over 1.5 million Visited users. To learn more about the Visited Travel Map and Inspiration App, visit https://visitedapp.com.
About Arriving In High Heels Corporation
Arriving In High Heels Corporation is a mobile app company with apps including Pay Off Debt, X-Walk, and Visited, their most popular app.
Source: Arriving In High Heels Corporation