Color Me Psychic Coming to the St. Peter's Art and Cultural Centre
Press Release
•
Oct 7, 2014
Create a mandala, interpret dreams and use color to heighten your psychic abilities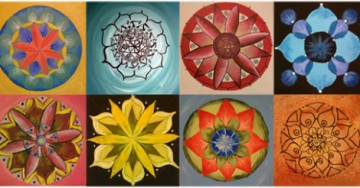 St. Peters, MO, October 7, 2014 (Newswire.com) - Color Me Psychic Coming to the St. Peter's Art and Cultural Centre
Create a mandala, interpret dreams and use color to heighten your psychic abilities
The very presence of colors in a dream will help lead the dreamer into a better understanding of his or her dreams.

Staff writer
Affinity Entertainment Productions announces an upcoming workshop, Color Me Psychic, designed to use color in psychic development, dream interpretations, and spiritual mandalas. This fun and fascinating workshop will be held on Tuesday, November 4 at 6:00p.m. - 8:00p.m. at the St. Peters Cultural Art Centre, 1 St. Peters Centre Blvd., St. Peters, MO 63376.
Color is an important aspect of psychic work and psychic development. It is a valuable tool to use when coupled with psychic work. In the Color Me Psychic workshop, you will learn how to interpret color, use color, and work with color to aid in intuitive or psychic work. A professional psychic, ANGELA THOMAS of angelathomas.org, and co-owner of Choose a Psychic and Psychic Services Business, a service advocating professionalism and ethical practices among psychics, will provide valuable information on how she works with color, and how you, too, can work with it.
Dream works and dream interpretation also includes color work. The very presence of colors in a dream will help lead the dreamer into a better understanding of his or her dreams. Whether alone or mixed with other colors in dreams, the intensity, tone or shade of color makes a difference in the ultimate meaning or interpretation. A professional, dream interpreter, KAREN WAGGANER BURTON, owner of GATEWAY INTUITIVE Workshops, will instruct you on how to use colors, and reach a new level of understanding with your dreams.
You'll be creating a beautiful mandala, a geometric shape which is symbolic of your dream or relationship to your world. This mandala, or others you learn to create, will be a way of mastering your own feelings, spiritual endeavors or desires to become whole with your world. You'll soon discover why the Eastern culture has relied on the mandala for centuries, and why the Western culture is embracing it for its own. You'll be guided by SHEVA SUSAN PINKUS, a professional, Mandala Art Workshop owner, who will instruct you every step of the way on creating your very own mandala.
With three professional instructors, you are bound to learn what makes color so special. The Color Me Psychic workshop is $40 per person. Sign up today for the 'Bring a Friend' special which has been created for you at only $50 for both you and your friend.
For more information, visit www.gatewayintuitive.com
# # #
Related Media