Colonial Assisted Living at Miami Dedicates Itself to Assisting Seniors at City of Miami Gardens
'Giving back' to Seniors in Miami Gardens, Florida.
Press Release
-
updated: Apr 20, 2018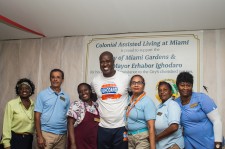 MIAMI GARDENS, Fla., April 20, 2018 (Newswire.com) - City of Miami Gardens Vice Mayor Ighodaro, commended Colonial Assisted Living of Miami, for their tremendous contribution that the organization is making towards improving quality of life for Seniors. Gold Standard of Care, the developer of the project, has received much gratitude from the immediate Community and its neighboring residents for the expansion, which sets to open this summer.
The Vice Mayor was recently on site at the Miami Gardens assisted living facility to collaborate on new City initiatives to better engage Seniors living in the City of Miami Gardens. During the April 11 visit, Vice Mayor Ighodaro interacted with Colonial Assisted Living staff members and the community's executive director, Chuck Hatch. Additionally, area seniors and residents at the Colonial Assisted Living in Miami had eagerly attended to the Vice Mayor and the City's new Seniors programs.
Mr. Ighodaro then took the opportunity to tour a newly built resident wing at the community and was pleased with the effort. The Vice Mayor shared, "Colonial is a recognized brand. The City of Miami Gardens is honored to have a business partner in Colonial Assisted Living, that is committed to corporate responsibility and giving back is what Colonial is all about."
Colonial Assisted Living in Miami has recently spent nearly $1,000,000, on the newly constructed expansion wing, at its Miami Assisted Living Community located at 1864 NW 175th Street in Miami Gardens.
The new addition is of material benefit to the living standards for many of the seniors at this Miami Gardens Assisted Living community that has been serving the area for over 30 years.
Established in 1984, the facility operated as a family owned, assisted living property for the beloved Reverend Rolle with his wife Ms. Rolle. They operated the affordable assisted living property with a tight budget, but with a heart full of love. After selflessly serving the Community for 30 plus years, Reverend Rolle passed on and the operation became too much for the family to handle. The property, along with nearly 70 seniors living there, found itself in slight financial trouble. The property's note holder, reached out to Gold Standard of Care in late 2011, to try and salvage the troubled operation from its accumulated debt.
Gold Standard of Care, seized the opportunity to rescue the troubled Community and paid off its debts to Commerce Bank. They've improved mostly all of the living quarters in 2012 and provided many things that the residents were lacking at the time. And now, with the new addition of an entire resident wing, Colonial Assisted Living in Miami will restore graceful living to the City's group of Seniors that are on a budget. Noteworthy is that Gold Standard of Care has done this, without any benefit or commercial gains to its own interests; as typically seen by real estate developers, when undertaking such major expenses with adding residential units.
"It's our way of giving back to the Community", said Gold Standard of Care's founder, Michael Verbitsky. "We were fortunate to have the land there to build onto. Thanks to our partnership with Centennial Bank, we wasted no time in constructing the expansion that these valued seniors truly needed". He added, "we hope to continue with these sorts of socially responsible developments and improvements throughout other cities in Florida."
About Gold Standard of Care
It is also noted that Gold Standard of Care has taken on similarly, socially responsible initiatives, earlier this year with improving a 100 bed Community that they redeveloped in Broward County, FL. The newly renovated assisted living facility will be operated by the Colonial Assisted Living Group, for the benefit of seniors seeking affordable assisted living options in the greater Fort Lauderdale region. Colonial Assisted Living at Ft. Lauderdale is set to open its doors in May of 2018, with a "first of its kind décor" for affordable seniors living, which features themed interiors and revolutionary settings.
Ahead of the Broward project, Gold Standard of Care effectively redeveloped a 105-bed assisted living community in Boynton Beach, in 2015 and three others in Lantana, West Palm, and Tampa.
Gold Standard of Care is truly a dedication to improving Florida Seniors housing real estate with a special focus on affordable senior living. They are expecting to announce their two new Communities in Central Florida later this year.
Source: Gold Standard of Care LLC
Share:
---
Categories: Seniors, Real Estate
Tags: 1864 NW 175th St. Miami Gardens, Assisted Living, City Miami Gardens, Colonial Assisted Living, Colonial Assisted Living Miami, Gold Standard of Care, Gold Standard of Care Miami, Michael Verbitsky, Ricki Kaneti, Seniors Living
---