Collegiate, Military and Professional Sports Medicine Experts Find sam Therapy Highly Effective
Press Release
•
May 23, 2023
New study shows sports medicine providers conclude sustained acoustic medicine speeds injury healing and reduces need for pain medication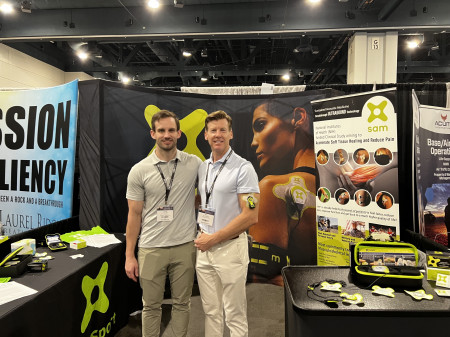 TRUMBULL, Conn., May 23, 2023 (Newswire.com) - Healthcare professionals working in collegiate, military and professional sports medicine strongly believe that sustained acoustic medicine benefits their patients by helping them return to activities and reducing the need for pain medicine, according to an article recently published in a medical journal.
Sustained acoustic medicine is a long-duration, high-dose, ultrasound treatment developed by ZetrOZ Systems, which manufactures the sam® wearable ultrasound unit. The effectiveness of sustained acoustic medicine and the sam® family of devices is documented in more than 40 clinical studies and the treatment of hundreds of thousands of patients worldwide.
The latest study, "Evaluation of Sustained Acoustic Medicine for Treating Musculoskeletal Injuries in Military and Sports Medicine," was published in Open Orthopedics Journal in December 2022, the results of a survey of 97 sports medicine providers and panel discussions with another 142 medical professionals, all of whom used sustained acoustic medicine to promote soft tissue healing.
An overwhelming majority (83%) of the professionals found that sustained acoustic medicine, in combination with topical medication, provided "excellent" or "good" benefits to their patients. Another 11% found it provided some benefits. Among other significant findings reported:
- Sustained acoustic medicine provided clinical improvement in under two weeks (68.9% of responses)
- Sustained acoustic medicine allowed a 50% reduction in pain medication (63%)
- Patients were highly receptive to treatment with sustained acoustic medicine (87.3%)
- The medical provider had a high level of confidence for improved function and returned to work after 30 days of sustained acoustic medicine treatment (81.2%)
"SAM is an effective, safe, easy-to-use, noninvasive, comfortable, and versatile therapeutic for healing musculoskeletal injuries," the researchers concluded.
Sustained acoustic medicine works by generating deep heat, convection and vasodilation and activating cellular proliferation. ZetrOZ Systems' wearable sam® devices deliver continuous therapy for up to four hours to the precise location of the injury.
"Sports Medicine Providers are on the front lines of treating soft tissue injuries, which are unfortunately a fact of life for athletes, our military and people in most lines of work," said Dr. George Lewis, founder and CEO of ZetrOZ Systems. "We're glad to see these healthcare professionals are finding sustained acoustic medicine helps people get back to their work and the activities they love."
The ZetrOZ technology was developed in part with funding from the National Institute of Health, National Science Foundation, Department of Defense, and NASA, and is protected by 46 U.S. patents.
To learn more about ZetrOZ and the sam® line of wearable ultrasound devices, visit www.samrecover.com.
About ZetrOZ Systems
ZetrOZ Systems is leading healing innovations in sports medicine, developing wearable bioelectronic devices for the delivery of sustained acoustic medicine (sam®). Researched and funded by the federal government, ZetrOZ is built on the proprietary medical technology of +46 patents and is the exclusive manufacturer and developer of the sam® product line, which is designed for the treatment of acute and chronic musculoskeletal conditions.
Source: ZetrOZ Systems