Collabra Technology Announces the Launch of RElumio™
Press Release
•
Jun 8, 2022
Automated Digital Marketing Technology Will Power New Member Benefit for the Denver Metro Association of REALTORS®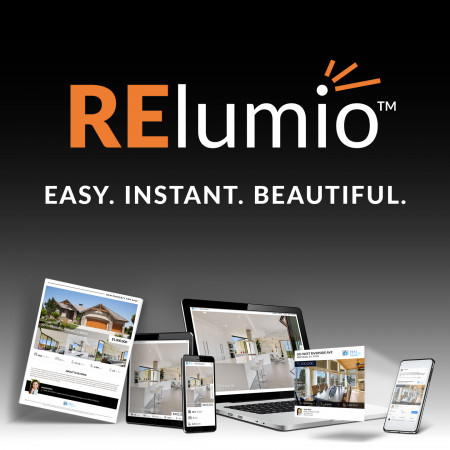 SPOKANE, Wash., June 8, 2022 (Newswire.com) - Collabra Technology, a leader in digital marketing technology for the real estate industry, announced today the launch of RElumio, its foundational platform for real estate digital marketing automation. As part of this launch, RElumio is now available to the over 8000 members of the Denver Metro Association of REALTORS® (DMAR), one of the nation's leading REALTOR® organizations.
RElumio works in the background to automatically provide listing agents with a complete digital marketing package immediately after submitting a listing into the MLS. The marketing package includes a listing website, social media videos and digital flyers all with a 'click to share' component to make it seamless and simple for agents to market listings immediately.
In today's highly competitive market, these tools assist listing agents in creating sophisticated marketing pieces that are branded for their business, can be easily customized, and sent to a variety of social channels with the click of a button. "We are always looking to provide our members with a competitive advantage and we are proud to be the first REALTOR® association to offer this technology exclusively to our members in the Denver metro", said Nobu Hata, DMAR CEO.
"The use of automated digital marketing technology (MarTech) is growing rapidly in other 'business to consumer' industries and yet real estate is still lagging in many respects," said Russ Cofano, CEO of Collabra Technology. "Busy real estate agents want and need easy-to-use automated solutions to enhance their personal marketing, and we are excited to work with DMAR and other forward-thinking REALTOR associations and MLS organizations who understand the need to help their members remain highly competitive in an industry full of disruption."
The launch of RElumio is just the first in a series of planned digital marketing applications that Collabra will be launching this year.
About Collabra Technology
Operating under the RElumio™ and PowerHouse™ brands, Collabra Technology provides powerful digital marketing technology and services enabling real estate organizations, brokerages, teams and agents to accelerate sales and enhance their digital presence. For more information, please visit CollabraTechnology.com and RElumio.com.
About DMAR
DMAR is a membership-based organization comprised of over 8,000 real estate professionals in the Denver metropolitan area and The Voice of Real Estate® in the Denver metro area. DMAR functions alongside the Colorado Association of REALTORS® and National Association of REALTORS®. DMAR's areas of expertise include insight into the residential real estate industry and metro Denver's growth, as well as extensive market knowledge; publishing a nationally recognized monthly DMAR Market Trends Report. For more information, please visit dmarealtors.com.
Contact:
Russ Cofano, CEO Collabra Technology: russ.cofano@collabratechnology.com
Mia Van Wagenen, Marketing Director, Collabra Technology: mia.vanwagenen@collabratechnology.com
###
Source: Collabra Technology