Cole Freeman Will Fly Through the Sky Over Northern Chill Naturally Alkaline Water at the Geico Hot Bike Tour in Arizona Oct. 6th
Press Release
•
updated: Oct 4, 2018
Cole Freeman will deliver extreme entertainment with an amazing daredevil jump on a Harley-Davidson across pyramids of bottled water.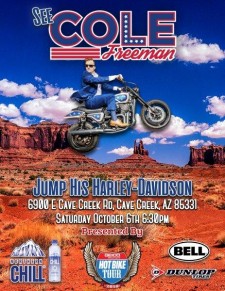 PHOENIX, Ariz., October 4, 2018 (Newswire.com) - Cole Freeman always delivers amazing entertainment while flying through the air on a Harley-Davidson in Evel Kneivel style daredevil jumps. Cole has been completing motorcycle jumps across the country and this Saturday Cole will jump a Harley-Davidson XG 750 Street over 25,840 bottles of Northern Chill Naturally Alkaline water. Stop in and watch Cole's heart-stopping jump at the Geico Motorcycle Hot Bike Tour located at Roadhouse, 6900 E. Cave Creek Rd, Cave Creek, AZ 85331. To learn more about the Hot Bike Tour, visit www.hotbikeweb.com/tour.
Cole Freeman of Saint Louis, Missouri, travels the nation thrilling spectators like a legend from the past. Cole's adrenaline-fueled, fast-paced riding style is taking the sport to a new level. Many of the stunts that Cole dares to attempt have never been tried and most of them, for good reason. In a recent feat, Cole jumped a Harley-Davidson Road Glide Ninety-Nine Feet Ten Inches shattering ramps, bike and the record. Cole is on a mission to keep the industry thriving through extreme entertainment while paying homage to a childhood hero, Evel Knievel. Cole also hopes to inspire America's youth to step away from the electronics and get out outside and be active! For more information, follow Cole www.facebook.com/colefreemanofficial/ and www.instagram.com/colefreeman/ and www.youtube.com/c/ColeFreeman.
Northern Chill is a Natural Alkaline Water that has such a crisp and refreshing taste to share with family and friends at fun events throughout the year! Northern Chill is bottled at the source in the beautiful north woods of Polar, Wisconsin, from an aquifer left by Ice Age glaciers. Northern Chill water is all natural – nothing is added to it! A natural way to stay more hydrated. Northern Chill will be donating bottles of water at the event to riders and to help raise money for charities. Northern Chill has already donated thousands of bottles to charities and first responders at previous jumps. To learn more or to give suggestions on where to purchase Northern Chill, visit www.NorthernChill.com or follow at www.instagram.com/drinkchillh2o and www.twitter.com/drinkchillh2o and www.facebook.com/drinkchillh20.
To learn more about Northern Chill visit www.NorthernChill.com
To learn more about Cole Freeman visit https://illconduct.com/
PR Contacts
(715) 602-6317
Curt Kufner
About Northern Chill Natural Alkaline Water
Northern Chill is a Natural Alkaline Water. It is bottled at the source in the beautiful north woods of Polar, Wisconsin. The Ice Age glaciers that moved through Langlade County thousands of years ago created the aquifer that produces Northern Chill. Northern Chill water is all natural – nothing is added to it! Northern Chill water comes out of the ground with these great levels of minerals, electrolytes, and 7.8pH and is only treated with UV and micron filtering. Northern Chill uses only 100% PET, BPA free bottles with waterproof labels. To learn more visit www.NorthernChill.com.
Source: Northern Chill
Related Media
Tags
Related Files
Additional Links