Coated Fry Pans Are Choking the Planet and Cook Culture's Fry Pan Trade-In Event is Doing Something About It
Nine out of 10 Canadians buy a coated fry pan every year and 3.5 million of them get thrown away
Press Release
-
updated: Oct 15, 2018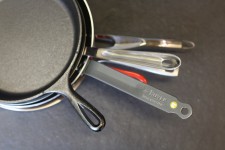 VANCOUVER, British Columbia, October 15, 2018 (Newswire.com) - Cook Culture, the leading kitchenwares retailer and culinary educator with four locations in Victoria and Vancouver, is leading the charge to responsibly eliminate as much used Teflon and Teflon-like cookware from people's kitchens as possible. To make this happen, throughout the month of October they are offering 30 percent off a new "sustainable" fry pan with the "trade-in" of a used piece of coated cookware. Owner Jed Grieve calls this "One In, One Out. For Good."
This is Cook Culture's 3rd Annual "Fry Pan Trade-In" Event. In the first two years, Cook Culture took in over 4,300 pounds of used coated fry pans, which was responsibly recycled. Cook Culture's goal is to completely eliminate the use of coated pans and cooking tools in the kitchen, which will greatly reduce unnecessary waste and the use of chemicals in people's kitchens.  
In 2015, Cook Culture chose to discontinue selling all products coated with a chemical non-stick finish. This included some popular brands of cookware, bakeware and electronics; no more coated fry pans, cookie sheets and waffle makers. This decision negatively impacted gross sales but they believed they could no longer trust that they were selling "safe" products. Jed, founder and CEO of Cook Culture, says, "I've been in this business a long time and I've seen many coated cookware brands come and go. One thing for certain about coated cookware is that it all ends up in the garbage after a few short years."
Cook Culture offers an inventory of "naturally non-stick" pans which include Lodge Cast Iron, de Buyer Carbon Steel and Staub Cast Iron fry pans, all at 30 percent off retail with the trade-in of a used coated pan. These types of pans must be maintained and do take time and attention, however, the result is a non-stick pan that is naturally non-stick and will last forever.
Seasoning video: How to season de Buyer fry pans
Jed says that the decision to use Teflon-like coatings is an individual choice of the consumer and has found it to be a bit contentious, as many people do not realize the direct effect of using chemicals in cooking.
Jed has watched an immense amount of cookware unnecessarily discarded year in and year out because coated cookware wears out so fast. He's experienced that in the housewares industry, it's accepted that nine out of 10 people will buy coated cookware. Using simple math, he estimates that 3.5 million fry pans alone are discarded in Canada annually. Here is a link to the logic of his math.
Over the last few decades, a battle has raged over the chemicals used in Teflon. Many people have written about using or not using coated fry pans, especially ones with Teflon. So-called authorities have vouched that Teflon is totally safe and almost every retailer that sells cookware sells a chemically coated type of cookware.
In 2014, there was a class action court case that ordered DuPont, the maker of Teflon, pay $300 million in damages for poisoning groundwater with the chemicals found in Teflon, but part of the deal was that they did not have to admit to any wrongdoing. The science and research of the long-term effects of the chemical used to make coated pans is murky, mainly due to the lack of investment by anyone other than the chemical companies. However, part of that landmark compensation package awarded to the plaintiffs was designated to fund research that proved that the chemicals in Teflon are carcinogenic. Please read this article that explains how this was amazingly uncovered. The final payout last year was for over $670 million.
Jed also wants to challenge his industry - manufacturers and retailers. He wants his industry to take responsibility for selling wasteful cookware. He says that even though it takes more effort to educate and support a customer in learning how to use a sustainable fry pan, retailers should do everything they can to limit the impact on the environment. To them, he says, "In this day and age, with what we all now know, anyone that buys or sells coated cookware is contributing to waste in our environment."
About the Event
The "One In One Out Trade-In Event" continues to Oct. 31 in all four Cook Culture retail locations. Fry pan brands involved are Lodge Cast Iron, de Buyer Mineral and Staub Cast Iron. The event details are: one used coated fry pan can be brought into any Cook Culture store to be traded towards a new fry pan at 30 percent off the MSRP. After the event is over, Cook Culture will have the used pans recycled by a Vancouver company that will remove the handles and coating and repurpose the materials. 
About Cook Culture
Everything Cook Culture does is to help people have more fun in the kitchen. To eat better, be healthier, enjoy time with family, friends and food, and connect with the people who grow and make what we eat. They'll help people find the right kitchen equipment, improve their kitchen skills with cooking classes taught by great chefs and instructors and learn about fresh, seasonal foods and local producers. Cook Culture has three retail stores selling kitchenware in Vancouver and one in Victoria, with teaching kitchens in North Vancouver, downtown Vancouver and Victoria.
Cook Culture is the only kitchenwares retailer in Canada to publicly pledge not to sell disposable cookware of any type.
About Jed - Founder and CEO
Jed Grieve has been selling housewares since the late '90s. Over the years, he's sold many of the most popular high-end cookware brands produced, including many of the leading non-stick cookware brands. Due to his years of retail and cookware buying experience, Jed has learned that all coated cookware is not sustainable. He's calling on his industry to sell cookware that is better for people and the environment.
Jed is the only retailer in Canada leading the charge to sell and educate on the use of only healthy, sustainable cookware.
Attachments :  
Jed's latest blog on what fry pans are choking the planet:
https://www.cookculture.com/non-stick-fry-pans-are-choking-our-planet/ ​
Jed making a plea to the general public to stop buying coated pans:
https://www.youtube.com/watch?v=6vxL0QICKmE ​
Over the last two years, Cook Culture has recycled over two tonnes of non-stick fry pans. This is a video of the pile from 2017: 
https://www.youtube.com/watch?v=F70Bp3JdVzI ​
How to season a carbon steel pan with Chef Cosmo Meens:
https://www.youtube.com/watch?v=S5pTGUBVy8Q&t=49s
Why people have such an issue using pans without Teflon:
https://www.youtube.com/watch?v=3eFA6sBzk7A
 
For more information:
Please contact Jed Grieve, founder and CEO of Cook Culture
​Phone: 250-812-4151
​Email: jed@cookculture.com ​
​Website: https://www.cookculture.com/ 
IG: https://www.instagram.com/cookculture 
FB: https://www.facebook.com/cookculture/
Source: Cook Culture
Share:
---
Categories: Retail, Active and Healthy Living
Tags: eco cookware, natural cooking, No Teflon
---