CMSC Receives Interprofessional Continuing Education Joint Accreditation for the Healthcare Team
CMSC Ranked as a Top Tier MS Education Provider
Press Release
-
updated: Dec 7, 2017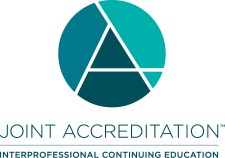 Hackensack, NJ, December 7, 2017 (Newswire.com) - The Consortium of Multiple Sclerosis Centers (CMSC) is pleased to announce that it has received the maximum six-year accreditation as a provider of Interprofessional Continuing Education (IPCE).  As a jointly accredited provider, CMSC can now offer education and CE credits to physicians, nurses, and pharmacists together or separately through the Accreditation Council for Continuing Medical Education (ACCME), the American Nurses Credentialing Center (ANCC) and the Accreditation Council for Pharmacy Education (ACPE).
Maximum six-year accreditation signifies that CMSC has achieved 100% of the criteria for Joint Accreditation and is among the top tier of continuing healthcare education providers in the United States.
According to national continuing medical education advisor Steve Passin, President of Steve Passin & Associates, "Through their extensive documentation of compliance with the criteria for Joint Accreditation, The Consortium has demonstrated that its CE program is by and for the healthcare team. CMSC's team-based approach to education promotes skills and strategies for its members that yield better outcomes for patients and their families."
Joint Accreditation offers organizations the opportunity to be simultaneously accredited to provide medicine, pharmacy, and nursing continuing education activities through a single, unified set of accreditation standards. Joint Accreditation promotes IPCE activities specifically designed to improve interprofessional collaborative practice in health care delivery to achieve a common goal of improving patient care. Joint Accreditation signifies to clinicians and to the public that continuing healthcare education activities provided by CMSC meet the high standards for commercial support of Joint Accreditation.
The Joint Accreditation process rigorously evaluates the overall continuing healthcare education programs of institutions according to standards adopted by all three sponsoring organizations. CMSC's continuing education program is now part of a group of elite organizations in the United States—including major medical schools, national medical associations, hospitals and other medical education organizations—that have been awarded this accreditation status.
"This acknowledgement of the high quality of our performance-in-practice further empowers our core vision to be "the pre-eminent organization of MS healthcare professionals improving the lives of all those affected by multiple sclerosis," said June Halper, APN-C, CEO of CMSC.
CMSC also provides CE credits to psychologists, social workers and other professions for their educational activities at their annual meeting and in other live and enduring programs and materials throughout the year.
CMSC's educational programming ultimately serves all those affected by multiple sclerosis worldwide as their healthcare providers avail themselves of the curricula offered by The Consortium of Multiple Sclerosis Centers. For more information about CMSC's award-winning CE program, visit:  www.cmscscholar.org
###
ABOUT THE CONSORTIUM OF MULTIPLE SCLEROSIS CENTERS (CMSC)
CMSC, the Consortium of Multiple Sclerosis Centers, is the leading educational, training, and networking organization for MS healthcare professionals and researchers. The CMSC mission is to promote high quality MS care through educational programming and accreditation including live and online events, research grants, technical journals and papers, and targeted advocacy efforts. The CMSC member network includes more than 11,000 international healthcare clinicians and scientists committed to MS care as well as more than 60 Veterans Administration MS Programs and 225 MS Centers in the US, Canada, and Europe. The 32nd CMSC Annual Meeting, the largest gathering of MS professionals in North America, will take place May 30 – June 2, 2018, in Nashville, TN. For more information visit: www.mscare.org. Follow CMSC on Twitter: @mscare.org and Facebook: CMSCmscare.
Media Contact:  Annie Scully, annie.scully@mscare.org, 201-310-9252
Source: Consortium of Multiple Sclerosis Centers (CMSC)
Share:
---
Categories: Healthcare and Medical News, Neurology, Medical Research
Tags: accrediation, chronic disease, continuing education, medical education, MS, multiple sclerosis, neurological disorder, neurologists, neurology, PA
---