CMI Energy Receives a Historic Shipment at Port of Erie
More than 13 Million Pounds of Components Arrive in Erie Destined for New Castle, PA
Press Release
-
updated: Jul 23, 2018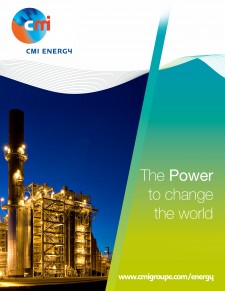 ERIE, Pa., July 23, 2018 (Newswire.com) - A local engineering company with a manufacturing legacy of more than 100 years is making history again. CMI Energy, a company that designs, engineers, procures and provides aftermarket support for Heat Recovery Steam Generators (HRSGs) worldwide, is bringing an 86,890- square foot and 13,452,000-pound shipment into the Port of Erie. The shipload weighs more than the total weight of all freight received in the Port over the last eight years, according to Brenda Sandberg, Executive Director at Erie-Western PA Port Authority.
This is the first time since the 1990s a large-scale project designed and engineered by CMI Energy will be coming into the Port of Erie. CMI Energy specifically chose the Port of Erie over several others ports in the area. There were several reasons for their decision which included support of the local economy and the Erie Port Authority's willingness to accommodate the large shipment. CMI is partnering with two other Erie businesses, Don Jon Shipping and Barnhart Transportation for logistics.
"The two assembled HRSGs will take up around one acre. The units generally stand over 150 feet with the stacks," said Larry Garcia, CMI CEO.
The components for a Heat Recovery Steam Generator which arrived at the Port of Erie on Sunday will begin unloading today, a process that will take several weeks. Once unloaded, the components will be transported to New Castle, Pa., where they will be assembled. The finished Heat Recovery Steam Generator will convert natural gas to electric and provide power to Pennsylvania. 
The power will be produced from two gas turbines feeding two HRSGs which in turn feed a single steam turbine. The HRSGs convert waste heat produced by the gas turbines into steam which is then utilized by a steam turbine for additional power generation. The steam turbine is supplied with high pressure, superheated and reheated steam from the two CMI HRSGs.  Each HRSG recovers heat from an individual gas turbine with added supplementary duct firing capacity so that each HRSG's duty will be as high as 250 MW, rated at over 1 million lbs/hr. of high pressure, superheated and reheated steam. 
"There are more than 700 CMI Energy Heat Recovery Steam Generators around the globe, but this is the first time that many CMI employees will be able to see firsthand what they have been designing," said Garcia. 
CMI Energy has been a part of the Erie community since 1840. Today, the company is an innovative, high-tech design engineering firm serving the power generation industry. The company employs about 100 people at their Knowledge Park facility in Erie. It was formerly Presque Isle Foundry, Erie City Iron Works, and Zurn Energy Division.
ABOUT CMI Energy
As a global player in steam generation for 200 years, CMI Energy is a world leader in the design and supply of heat recovery steam generators (HRSG), thermal solar receivers, boilers for FLNG (floating liquefied natural gas), and industrial boilers. The CMI Energy offering includes industrial boilers for sectors such as chemicals, petrochemicals, and biomass. CMI Energy provides expertise and technical assistance, retrofitting and upgrading services for all types of boilers. To learn more go to cmigroupe.com.
Source: CMI Energy, LLC
Share:
---
Categories: Energy, Engineering
Tags: CMI Energy, gas turbines, Heat Recovery Steam Generators, HRSG, natural gas convert to electric, power generation, steam turbines
---
Related Files
Additional Links