CMG Announces Acquisition of Retail Division of Homebridge Financial Services
Press Release
•
Mar 6, 2023
Acquisition brings together the retail divisions of two leading mortgage bankers to create one of the nation's top independent mortgage banking companies, together originating over $30 billion in 2022.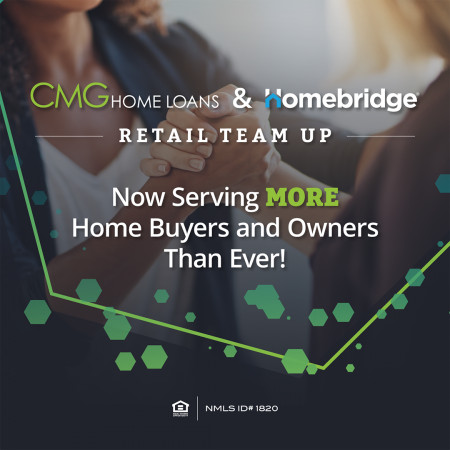 SAN RAMON, Calif., March 6, 2023 (Newswire.com) - CMG Mortgage, Inc., a leading mortgage banking company that originated more than $19 billion in 2022, announced today its asset acquisition of the retail division of Homebridge Financial Services, a mortgage company based in Iselin, NJ, that originated $12 billion in the same year. This acquisition significantly increases the footprint of CMG's retail division, further solidifying its position as one of the nation's largest mortgage banks.
"We are thrilled to add the highly successful origination team at Homebridge to our own highly successful retail team at CMG," said Christopher M. George, CEO of CMG. "From our shared heritage as privately held mortgage companies to our common focus on excellence for our customers and our employees, I am certain that together we will create meaningful opportunities for innovation and growth."
Over the last 30 years, Homebridge Financial Services has grown to become one of the largest privately held, non-bank lenders in the United States. Homebridge has more than 1,600 associates throughout the United States, more than 180 retail branches, and 2 wholesale divisions: Homebridge Wholesale and REMN Wholesale.
"CMG is a company that we have always had deep respect and admiration for," said Peter Norden, CEO of Homebridge. "Giving our retail sales team the opportunity to join forces with Chris George and his incredible team will position everyone for success in an ever-changing market," Norden said.
Homebridge will retain its wholesale division, focusing on excellence in wholesale mortgage lending. Norden will act as Executive Advisor to CMG's retail division to ensure a successful transition.
About CMG
CMG Mortgage, Inc. (NMLS #1820) is a well-capitalized mortgage banking company founded in 1993. Founder and CEO Christopher M. George was Chairman of the Mortgage Bankers Association in 2019. CMG makes its products and services available to the market through three distinct origination channels, including Retail Lending, Wholesale Lending, and Correspondent Lending. CMG currently operates in all states, including the District of Columbia, and holds approvals with FNMA, FHLMC, and GNMA. CMG is widely known throughout the mortgage banking and housing markets for responsible lending practices, industry and consumer advocacy, product innovation, and operational efficiency.
About Homebridge
Homebridge Financial Services, Inc. (NMLS #6521) is one of the largest privately held, non-bank lenders in the United States. In the last 30 years, Homebridge has grown to include approximately 1,650 Associates throughout its corporate offices, more than 180 retail branches and two wholesale divisions, Homebridge Wholesale, and REMN Wholesale. Homebridge holds FNMA, GNMA, FHLMC, FHA and VA approvals, and funded $12 billion in home loans at the close of 2022. More information on Homebridge, an Equal Opportunity Lender, can be found online at www.Homebridge.com.
Source: CMG Mortgage, Inc.