Clue Chase, a New Escape Game Venue, Opens in NYC's Grace Building
Located in the Grace Building, adjacent to Bryant Park, Clue Chase is an escape game venue designed to be the largest and most immersive "room escape" experience in the city. Multiple "missions" include interactive details and were designed by theatrical designers and expert puzzle builders. Open as of November, with additional rooms in development.
Press Release
-
Jan 22, 2016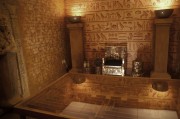 New York, NY, January 22, 2016 (Newswire.com) - There's something strange and wonderful on the concourse level of the Grace building. A door, one that looks like the door to any other office in the building, allows visitors to bend space and time, transporting them far away from Bryant Park and the bustling streets of the city. At least that's what creator, David Chase, is hoping to accomplish at Clue Chase, New York City's newest and largest escape game venue with four missions and over 4,100 square feet of games and puzzles.
Unlink other escape-style games, Clue Chase is "mission-based" and every door leads to an expertly crafted puzzle to solve within a room designed by actual theatrical set designers. Missions include: becoming a spy during the Cold War, an archaeologist trapped in an Egyptian tomb or a master thief pulling off the world's greatest heist. Players work in teams of 4-10 to find clues, collect hidden items, solve puzzles and accomplish the mission within a 60-minute limit.
"We are so proud to see Clue Chase come to life," said David Chase, President of Clue Chase. "It's been an awesome experience to put together. We really tried to build in unexpected details into every mission and the response has been phenomenal thus far." Chase, 27, former Ernst & Young senior tax analyst, hopes the time and effort put into Clue Chase will establish it as an innovative, high-quality, room escape experience. From its convenient location in the Grace building on 42nd street across from Bryant Park, to the meticulous design of the missions, Clue Chase has created a truly immersive experience. "We even had a professional locksmith recreate a traditional ancient Egyptian tomb lock as a feature for the Egyptian Tomb mission," says Chase.
Clue Chase officially opened its door in November of 2015. However, a final mission is still in development. Tickets are available by reservation only. Individuals and groups - families, friends, coworkers - are welcome to reserve their tickets now via Clue Chase's website: www.cluechase.com, or call (646)-829-1690. Be sure to also follow Clue Chase on Facebook at www.facebook.com/cluechasegame or Instagram, @ClueChase.
###
Share:
---
Categories: Games and Play, Tourism, Venues
Tags: grand opening, group activities, new business, room escape games, things to do in nyc
---