Cloudneeti Launches UK NCSC's Cloud Security Principles for Microsoft Azure
Address UK NCSC's Cloud Security Principles for Microsoft Azure workloads using Cloudneeti
Press Release
-
updated: Sep 20, 2018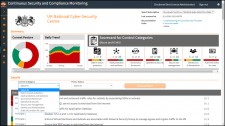 SEATTLE, September 20, 2018 (Newswire.com) - Today Cloudneeti announced the release of automated validations for UK NCSC's Cloud Security Principles for Microsoft Azure workloads. The UK NCSC guidance works like a bridge between government and industry, with the proviso of a unified source of inputs, advice, leadership, and platform for Cyber-Security, including the management of Cyber-Security incidents. The NCSC provides a unique opportunity to build effective Cyber-Security partnerships between government, industry and the public to ensure that the UK is safer online.
"Cloudneeti's security validation engine enables businesses to improve the security posture of their cloud workloads on Azure. The product allows continuous monitoring of workload configurations and brings in the needed transparency for collaborative efforts across DevOps, Security Operations Center and Compliance teams" said Andy Zhulenev, President, Cloudneeti.
NCSC Cloud Security Principles provides cyber incident response and be the UK's authoritative voice on Cyber-Security. For the first time, key sectors will be able to engage directly with NCSC staff to get the best possible advice and support on securing networks and systems from cyber threats.
The Cloud Security Guidance published by NCSC lists 14 essential principles (includes people, process, IT, supply chain) to consider when evaluating cloud services, and why these may be important improve the underlying security of the UK internet and to protect critical services from cyber-attacks. 
"Cloudneeti provide depth expertise in cloud security and cloud automation, designed to help organizations to better understand and meet their the security, privacy and compliance obligations. Cloud automation is a key enabler for businesses looking to transform" said John Doyle, Director, Cloud & AI, Worldwide Health Industry, Microsoft.
Customer and Cloud service providers both are responsible for ensuring that Cloud platform and workloads are secure. Customers must identify critical systems and regularly assess their vulnerability against an evolving technological landscape and threat. Customers must invest in technology and their staff to reduce vulnerabilities in current and future systems. Cloudneeti provides continuous validation across 7 essential Cloud Security Principles (primarily IT related).
Cloud Security Principle 1: Data in transit protection
Cloud Security Principle 2: Asset protection and resilience
Cloud Security Principle 4: Governance framework
Cloud Security Principle 5: Operational security
Cloud Security Principle 9: Secure user management
Cloud Security Principle 10: Identity and authentication
Cloud Security Principle 13: Audit information for users
Take a Test Drive
Try Cloudneeti on Azure today.
Disclaimer
Benchmarks help you safeguard systems, software, and networks against today's evolving cyber threats. UK NCSC guidelines are developed by the NCSC GCHQ body, Cloudneeti's specific benchmark and related policies are an interpretation and potential applicability of requirements to public cloud (Microsoft Azure). UK NCSC has not published a benchmark specifically for Microsoft Azure. The rules & policies listed here are based on auditor interpretations, interaction with our customers and various Industry security analysts.
About Cloudneeti
Cloudneeti, a business unit of Avyan Corp, a global leader in Cloud Workload Assurance, is a privately held company headquartered in Redmond, WA, USA with offices and development centers in US, India and Eastern Europe, enables organizations to accelerate cloud adoption by proactively managing their security and compliance posture natively. Cloudneeti solves the challenges of managing security and compliance by providing instant visibility of cloud security posture, active validation of cloud configuration & compliance, and ongoing governance of cloud assets.
Contact Us:
·         Additional information: info@cloudneeti.com
·         Sales: sales@cloudneeti.com
Media Contact: Julian Anthony, Cloudneeti, julian@cloudneeti.com.
Source: Cloudneeti
Share:
---
Categories: Information Technology, Cloud computing
Tags: Azure Security, Cloud Security, Cloudneeti, Compliance, Cybersecurity, DevSecOps, Healthcare
---