CliniOps Announces Strategic Partnership With My Total Health
Press Release
•
Oct 20, 2022
Collaboration will accelerate and streamline gastroenterology (GI) clinical trials with an end-to-end platform for patient recruitment, enrollment, and management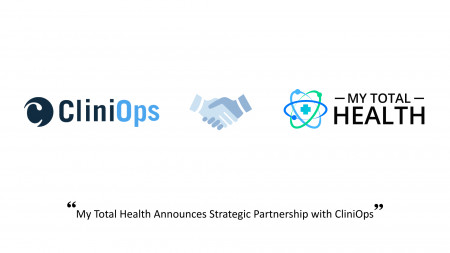 FREMONT, Calif., October 20, 2022 (Newswire.com) - CliniOps, Inc. announced today a strategic partnership with My Total Health Inc., in partnership with Commonwealth Diagnostics International, Inc. (CDI), in which the companies will collaborate to provide an end-to-end clinical trial solution for the gastroenterology (GI) community.
Sponsors, and contract research organizations (CROs) will be able to accelerate and streamline patient recruitment, enrollment, and trial management by leveraging resources from the three companies. This innovative offering will incorporate My Total Health's patient recruitment and enrollment solutions with the CliniOps platform for clinical data management, clinical operations, and regulatory submission.
"CliniOps is well known as an eClinical innovator for its comprehensive, digital platform and data science services," said Craig S. Strasnick, CEO of My Total Health and CDI. "Our collaboration will support current and future clinical trials that will contribute to more knowledge around the broad range of GI conditions that adversely affect millions of people around the world."
My Total Health's patient recruitment and enrollment solutions, powered by its MyGi Health patient population, pinpoint well-characterized and highly motivated clinical trial candidates, reducing marketing costs related to trial enrollment. Its customized recruitment portals and digital scheduling tools simplify the patient and trial coordination experience for sponsors and CROs.
CliniOps offers a unified platform to support both hybrid and virtual clinical trials, powered by integrated telemedicine. The solution provides access to real-time data for informed decision-making and seamless collaboration and is configurable and scalable across phase I, II, III and IV trials.
"We are honored to partner with My Total Health and CDI," said Avik Kumar Pal, founder and CEO of CliniOps. "This is an exciting time in medical research; our joint efforts will support current and future research that will shape every aspect of GI medicine."
About My Total Health and MyGi Health
My Total Health provides modern solutions for the GI community by connecting industry stakeholders with GI patients worldwide. Powered by its MyGi Health platform and data aggregation technology, My Total Health's GI-focused industry offerings include patient-provider engagement tools for GI practices, patient-driven marketing and sales solutions for health care brands, and subject recruitment and enrollment services for academic researchers, industry sponsors, and GI clinicians alike. Learn more at mytotalhealthinc.com.
About CliniOps
CliniOps, Inc. is a leading Technology and Data Science company for the Life Science Industry. CliniOps's Unified platform approach enables home-visit, site-visit, tele-visit and lab-visit, leveraging AI, Mobile, Analytics, Cloud, Sensors and Connected Devices. CliniOps is currently supporting trials across 30+ countries. CliniOps is featured in the Gartner Hype Cycle for Life Sciences R&D five years in a row since 2018. Visit https://cliniops.com and follow CliniOps on LinkedIn and Twitter.
Source: CliniOps, Inc.