Client Focused Advisors Named as Finalist in Signator Investors' "Practice of the Year"
Firm Recognized for Excellence in Practice Management, Client Service As Reviewed by Independent International Management Consulting Firm
Press Release
-
Feb 25, 2016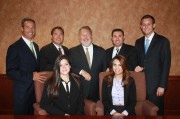 New York, New York, February 25, 2016 (Newswire.com) - Client Focused Advisors of New York City and Long Island, led by co-founders Jason Hill, Matthew Hill, William Phillips, and Brett Sigler, was named as a finalist in Signator Investors, Inc.'s  "Practice of the Year" competition, sponsored by National Financial Services, LLC, for the firm's excellence in key areas of practice management, client service, and overall practice performance.  
With over 1,000 clients in the Tri-State area, Client Focused Advisors focuses on building and preserving wealth for business owners and senior executives. The firm also aims to help clients achieve their goals of enjoying a secure retirement, leaving a legacy, and providing a college education for children or grandchildren.  
As part of the finalist selection process, Client Focused Advisors underwent a rigorous assessment conducted by the international management consulting firm Business Health, which reviewed client service, internal planning and structure, external relations, staffing and technology capabilities, and overall practice performance.
"Client Focused Advisors' approach is exemplary in understanding their clients' needs and building strong relationships," said Matthew Rigatti, Vice President, Sales and Field Resources. "They have used their experience to refine and evolve their practice, and we congratulate them on all their success."
In order to be considered, Signator's financial advisors must apply and complete Business Health's HealthCheck, a web-based business assessment tool that benchmarks a practice in several areas. Among all HealthChecks received, 5 finalists were selected and each received a site audit of their practice from Business Health. Business Health and a panel of outside financial industry experts then review the audit results and a winner is chosen.  The winner will be announced in January 2016.
To contact Client Focused Advisors, call (212) 573-5564 or email contactus@clientfocusedadvisors.com
Share:
---
Categories: Financial News, Business Finance, Personal and Family Finances
Tags: Finalist, Finance, Personal Finance, Practice of the Year
---