Click Boarding Launches Click Retain, Unlocking the Power of the Employee Voice
Press Release
•
Apr 27, 2023
Click Retain, Click Boarding's latest product innovation, will help companies improve employee retention and engagement.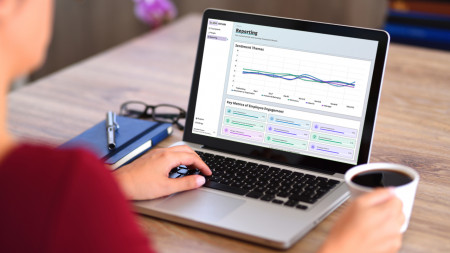 MINNEAPOLIS, April 27, 2023 (Newswire.com) - Click Boarding, LLC, a best-in-class employee experience platform delivering modern and compliant Human Resource solutions, announces Click Retain, a highly anticipated employee retention tool that measures and analyzes employee sentiment. Developed to impact first-year new employee growth and retention, Click Retain provides curated, science-backed employee assessments from an easy-to-use, integrated template library.
As part of the Click Boarding platform, Click Retain captures both qualitative and quantitative employee feedback in real-time, to help create clear job expectations and an engaging workplace. With more holistic and insightful data from Click Retain, leading enterprise organizations can quickly analyze and adjust their strategies to achieve more aggressive employee retention goals.
When it comes to competition, Click Retain is taking the lead in tackling an employee retention solution that helps turn employee sentiments into actions. It automates the delivery of essential questions to employees to uncover their insights in real-time, assisting businesses in spotting and flagging trends in key employee sentiment categories as they occur. With confidential surveys, employees are able to provide honest feedback without the fear of repercussions. While research-backed templates provide valuable feedback for employers on where they can improve and where they are doing well.
Janette Kresser, Click Boarding's Retain product expert, underscored why employee retention is particularly critical now as retention issues continue to grow and DEIB becomes a larger focus in the HR spheres:
"As the workforce evolves and becomes increasingly diverse, employee retention issues persist, and companies are recognizing the need for a more inclusive and equitable workplace. Embracing Diversity, Equity Inclusion, and Belonging (DEIB) can help organizations create a culture where all employees feel valued, heard, and supported, ultimately leading to higher employee engagement, retention, and business success."
According to the U.S. Bureau of Labor Statistics, the national turnover rate has risen incrementally over the past several years. By the end of 2022 specifically, the numbers continued to remain high as job turnover rates crept up across the board (source). It's why Kresser says retaining top talent in such a fiercely competitive landscape must be a fundamental concern for HR and people leaders across industries: "Measuring employee sentiment is critical now more than ever as companies face increasing turnover rates. By understanding how employees feel about their work, their team, and the company, organizations can identify areas for improvement and take action to address employee concerns before they lead to turnover.
"By prioritizing employee sentiment, companies can not only retain their best talent but also create a culture that attracts top talent and drives business success," Kresser says. She added that employers can also use Click Retain to establish employee baselines, promote ongoing engagement opportunities, and continually optimize their digital onboarding process.
Click Retain's innovative HCM technology is available as part of the Click Boarding solution package. For more, visit https://www.clickboarding.com/click-retain/.
Source: Click Boarding
Related Files