Clergy for Minority Youth Matters Movement Gear Up for Civil Rights Marches in Atlanta and New York
Press Release
-
updated: Mar 27, 2017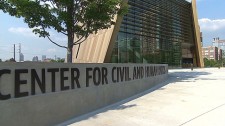 Atlanta, Gerogia, March 27, 2017 (Newswire.com) - Walt Disney World Co. and NASCAR Partnership Leading Cause For National Protests
Atlanta, Georgia, March 23, 2017 (Newswire.com) - The Clergy For Minority Youth Matters Movement has been diligently planning two civil rights marches in Atlanta and New York to bring mainstream awareness of the systematic discrimination that has permeated the motorsports industry, in particular, NASCAR.
The faith-based organization instantly began gathering support from top civil rights leaders, celebrities and sports figures, as well as leaders from Historical Black Colleges and Universities once their announcement to boycott the Walt Disney World Co. and NASCAR's partnership for the much anticipated Disney-Pixar animated film "Cars 3" became known last month.
The "Race for Change, Speeding for Education" is the name of the civil rights march the Clergy For Minority Youth Matters Movement will host in Atlanta and New York. The Atlanta march will end at The National Civil and Human Rights Museum.
"In Psalm 72:4 it says (may HE defend the cause of the poor, give deliverance to the children of the needy and crush the oppressor!)," said Pastor Dr. Luonne Abram Rouse, lead organizer for the Clergy for Minority Youth Matters Movement.
"For 69 years NASCAR, and their corporate partners, have been an oppressor of our Black and Brown brothers and sisters, and we will no longer, in good conscience, watch billions upon billions of dollars escape our grasp for community and educational enrichment," exclaimed Rouse. "Education is the key! We have been educating those who are truly unfamiliar with how much money passes through NASCAR, and how much money we Blacks do not see at all, if ever, from NASCAR into our communities."
"Words cannot express the disappointment I have with the Walt Disney World Co.," commented Chaplain Akil Rose, founder of the Harlem Transformation Project and organizer for Clergy For Minority Youth Matters Movement.
"To partner with NASCAR, a company known for discrimination issues, just to make a few extra dollars on an animated movie is unconscionable to me," continued Rose. "I am actually looking forward to seeing our young people protesting Disney in Times Square. I hope it will be a true wake-up call for all companies wanting to partner with NASCAR to be more conscious of their decisions."
"We believe very strongly that our civil rights march in Atlanta and New York will lead to a cease of this atrocity," mentioned Rouse. "We want these civil rights marches to function as a public notice that we are becoming more and more educated with regards to the partners associated with NASCAR, such as the Walt Disney World Co., Monster Energy, Xfinity, Camping World, Chevrolet, Ford, Toyota, Goodyear - and how millions of dollars are being spent, without any significant financial resources being allocated for the betterment of our communities in which NASCAR races, nor for programs already initiated by NASCAR with HBCU's."
"The time is now to make a change!" said Rose.
For more information regarding the Clergy for Minority Youth Matters Movement, visit http://www.facebook.com/clergyforminorityyouthmattersmovement
Contact:
Pastor, Dr. Luonne Abram Rouse
Lead Organizer
Clergy for Minority Youth Matters Movement
Email: c4mymm@gmail.com
Source: Clergy for Minority Youth Matters Movement
Share:
---
Categories: A&E News, Radio Programs, Business
Tags: clergy for minority youth matters movement, disney, nascar, National Human Rights Museum, terrance cox
---