Cleanup Efforts in Clearwater Begin in the Wake of Hurricane Irma
Press Release
•
updated: Sep 12, 2017
Scientology Volunteer Ministers (VMs) assist neighbors to clean up Clearwater.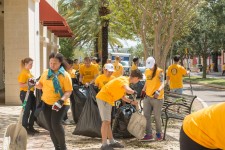 CLEARWATER, Fla., September 12, 2017 (Newswire.com) - ​Hours before Hurricane Irma was expected to slam into South Florida and move up the east coast, the National Hurricane Center announced a change in its projected track. Ranked as one of the most powerful Atlantic hurricanes on record, it was now predicted to plow into the Tampa Bay area wreaking havoc.
In Clearwater, the Church of Scientology was prepared for the worst. "When Irma changed direction on Saturday, we became very concerned about downtown and that property owners would have little time to prepare," said Scientology spokesman Ben Shaw. "Luckily, we had placed orders for all the plywood we could get and, just in time, a huge shipment arrived from Georgia. With that, we were able to board up every one of the downtown businesses."
This city is our home. The welfare of our neighbors is very important to us.

Mr. Ben Shaw, Spokesman for the Church of Scientology
Church staff and Scientology Volunteer Ministers using 700 sheets of plywood spent some 1,500 hours protecting 60 downtown businesses by boarding up their windows.
"Fortunately, Irma weakened as she approached our area. Almost at the last minute, the storm shifted to the east. Damage was nothing compared to what was anticipated," said Mr. Shaw.
As soon as the storm passed through, hundreds of Scientology Volunteer Ministers took to the streets in their signature yellow T-shirts, moving through downtown Clearwater in teams to clean up the damage and return the city to normal.
They removed the plywood boards they had used to secure the downtown storefronts. They repaired damaged awnings, cleared debris and fallen tree limbs from the streets and cleaned up the grounds around the post office and Clearwater City Hall.
Trees had fallen in the storm and the Volunteer Ministers attacked them with chain saws and carried them away. They removed the metal awning that collapsed at a local service station and at a business in downtown.
Volunteer Ministers then took to Coachman Park, City Hall, and Clearwater Beach, helping to remove debris and do general clean up. A truckload of fallen tree limbs and other debris was collected from each location.
"This city is our home," said Mr. Shaw. "The welfare of our neighbors is very important to us."
Scientology Volunteer Minister Joe Creek, who has lived in Clearwater for two years, said, "Clearwater got a good bit of damage from Irma and this can be overwhelming to our neighbors. I like to go out and do the most I can for them to relieve some of that burden."
Clearwater is the international spiritual headquarters of the Church of Scientology and the permanent home to more than 10,000 Scientology parishioners. Tens of thousands of Scientologists travel to the city each year from around the world to participate in religious services.
For more information, visit the Scientology Newsroom.
Source: ScientologyNews.org
Related Media