Classiqu' Era Aligned With Non Profit Artists for Trauma
Press Release
•
updated: Jun 6, 2019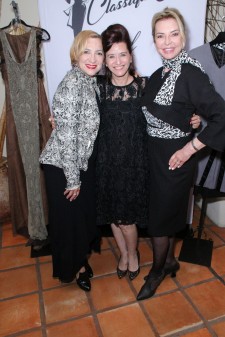 CENTURY CITY, Calif., June 6, 2019 (Newswire.com) - ​On Saturday, June 1, Classiqu'​ Era and Artists For Trauma (AFT) aligned for a Soft Launch and Trunk Show for the Classiqu' Era Collection! Anne Devlin, Designer of Classiqu' Era, has independently invited close colleague, Designer Monica Leigh, to take part in the celebration of launching their collections together. Classiqu' Era was delighted to announce its alignment with Charitable Foundation Artists For Trauma at a private residence in Century City.
VIPs in attendance were Anne Devlin, Founder of Classiqu' Era, Inc., Monica Leigh Rodriguez, Founder and Creative Director of Monica Leigh, Laura T. Sharpe, President and Founder of Artists for Trauma and Christina Noonan, Senior Vice President of JLL Commercial Real Estate and Artists For Trauma Board Member.
"What a lovely day! A high-energy soft launch celebrating two great new fashion collections, and the partnership of Classiqu'​ Era and Artists For Trauma. I am honored to be part of such a great team of women entrepreneurs and leaders. Together, we can make a positive difference!" said Anne Devlin.
"What an amazing event to share with Anne Devlin of Classiqu'​ Era and Laura Sharpe of Artists for Trauma! The alignment of these two women and these two organizations has wonderful and far-reaching impact into our world. I was delighted and touched to be a welcomed part of the day sharing a creative atmosphere of Fashion design and well being. Brava!" said Monica Leigh.
"From the board room to the dining room to the ballroom, it was a grand day reflecting the intelligence of mindful design toward elegantly dressing the diverse sophisticated woman!" added Laura T. Sharpe.
About Classiqu'​ Era:
Classiqu'​ Era is a new dress company, dedicated to providing luxury, high-quality dresses and gowns for executive and social women. In answer to the desires of women everywhere, Anne Devlin, Founder and Designer, has created elegant, sophisticated work and cocktail styles that are neither too short nor too tight, and have sleeves! The collection is sized 2-16, and is currently sold by special order, and in private showings.
More info at:
https://www.facebook.com/classiquera
https://www.instagram.com/classiquera
About Artists For Trauma:
Artists For Trauma is dedicated to enriching the lives of civilian and military trauma survivors through artistic expression and human connection. AFT partners with local to international nonprofits, trauma hospitals, businesses, & individuals to best provide creative healing environments at no cost to the trauma survivor.
https://www.facebook.com/ArtistsforTrauma
https://twitter.com/Artists4Trauma
https://www.instagram.com/artistsfortrauma
About Monica Leigh:
Monica Leigh is a newly launched luxury collection. Complete with evening gowns, cocktail dresses, and unique day to evening ensembles. Monica Leigh's pieces are available as ready to wear order size 2 to 16 or custom order made to measure. Monica harkens upon the dark to light aesthetic, ethereal in nature, rejoicing in natural curves, color, and metallic treatments. Elegant and luxurious, for the discriminating fashion icon.
More about Monica Leigh:
https://monicaleigh.com/pages/our-story
https://twitter.com/MonicaLeighLA
https://www.instagram.com/monicaleighsvx
Event Hashtags:
#womensfashion​ #womensempowerment​ #womeninbusiness
#aft #artistsfortrauma #whererecoveryisanart
#classiquera​ #timelessluxuryforthemodernwoman
#MonicaLeighSVX
#Luxurylifestyle​ #Luxury #Fashion
Source: Classiqu' Era
Related Media