Classical Note Philharmonic Brings Classical Music Back Feb. 21 at 7:30 PM
Press Release
•
updated: Feb 20, 2018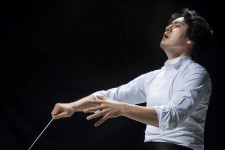 NEW YORK, February 20, 2018 (Newswire.com) - The Classical Note Philharmonic will perform romantic serenades of Tchaikovsky, Dvořák and an original composition by their music director and conductor David Jeong at Bruno Walter Auditorium at Lincoln Center on Wednesday, Feb. 21, 2018, at 7:30 p.m. Tickets ($30/person) are available at the door.
"We invite you to join us on Feb. 21 to witness a sensational debut performance by a passionate orchestra filled with musicians united to save classical music. We welcome all supporters and music lovers to join in this daring and exciting journey," Jeong said.
In his role as music director, Jeong also emphasizes that, in order to reach the goal of keeping classical music alive, it is vital that classical musicians also be kept "alive" – which means creating opportunities to support high-caliber musicians. The musicians who came together under Jeong's leadership to create the Classical Note Philharmonic are united by the idea that classical music must continue for future generations.
One way Jeong hopes to achieve this is through showcasing various genres of classical music. In addition to reviving traditional compositions, Jeong plans to include feature film and symphonic music he composed with experience as a former Sony Music and Universal Music artist.
"I created the Classical Note Philharmonic in 2018 to give high-quality musicians the opportunity for vibrant performances, as well as to create more jobs to keep their craft alive and continue pursuing their talents and lifelong calling in music," he said. "This has become my life's mission: to create opportunities for musicians and stage classical music for the modern audience."
In 2014, Jeong was acclaimed by Maestro Lorin Maazel during his final Castleton Music Festival as a conductor with "surprising talent." Previously, Jeong studied at the Gnessin Moscow Special School of Music and Moscow Tchaikovsky Conservatory in Russia as a composer and pianist, and he earned both his B.M. (Piano) and M.M. (Conducting) degrees at the New England Conservatory in Boston, Massachusetts. His debut piano albums, published by Sony Music and Universal Music of Korea, poignantly showcase the passion and sincerity of this remarkable triple-threat conductor, composer and pianist. Recently, Jeong released a solo piano album of original compositions, Run Away With Me, through Classical Note Inc., which is available on iTunes.
Classical Note Philharmonic Media Contact:
classical.note2014@gmail.com
www.cnphil.org
Source: Classical Note Philharmonic