Clarity Clinic Ushers in a New Era of Care With the Renovation of Its Flagship Clinic
Press Release
•
Aug 3, 2023
Clarity Clinic Unveils Newly Renovated Flagship Clinic with Expanded Facilities for Enhanced Patient Support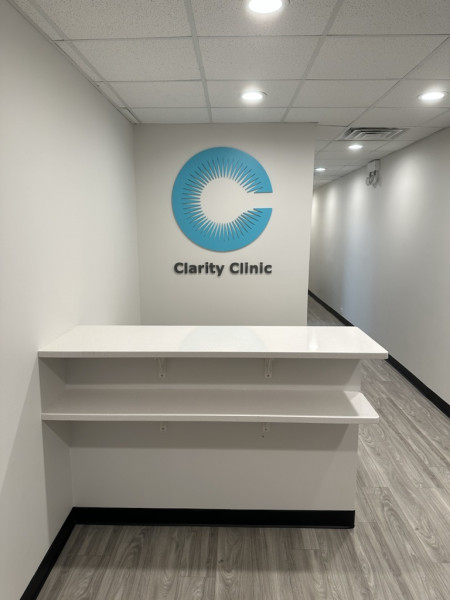 CHICAGO, August 3, 2023 (Newswire.com) - Clarity Clinic, a leading provider of mental health services, is thrilled to announce the renovation of its flagship River North clinic, taking patient care to new heights. Occupying two floors, the renovated space features 10 additional treatment rooms, as well as brand-new waiting areas to enhance the overall patient experience.
The mental health landscape has evolved significantly over the years, emphasizing the importance of accessible and compassionate care. Clarity Clinic has been at the forefront of these advancements, continuously striving to improve its services and expand its reach within the community. The renovation of the River North clinic represents a significant milestone in the company's mission to provide quality mental health support to those in need.
With the expanded facility, Clarity Clinic can now accommodate a larger number of clients seeking mental health support and therapy. The 10 new treatment rooms have been designed with the utmost care and attention to provide a calming and conducive environment for sessions. The company's team of highly skilled and empathetic mental health professionals can now deliver their services with even greater efficiency and personalized attention.
In addition to the enhanced treatment rooms, the new waiting areas have been thoughtfully crafted to promote relaxation and comfort for clients and their families. Clarity Clinic understands that seeking mental health support can be a vulnerable experience, and the welcoming waiting areas aim to provide a sense of security and serenity.
Moreover, recognizing the importance of self-care and well-being for their staff, Clarity Clinic has also invested in brand new break rooms. These spaces are intended to provide employees with a peaceful retreat during their downtime, fostering a healthy and supportive work environment that, in turn, translates to improved patient care.
"Clarity Clinic is dedicated to making mental health services accessible and compassionate to all individuals seeking support," said Stacy Lott, PsyD, Clarity Clinic's Chief Operating Officer. "The renovation of our flagship clinic reflects our commitment to delivering the highest standard of care in a comfortable and inviting setting."
About Clarity Clinic
Clarity Clinic offers leading psychiatry and therapy services with locations throughout Chicagoland, Illinois, and Northwest Indiana. Clarity Clinic is redefining mental health care through a leading network of mental health providers, who thoughtfully guide the whole person on their journey to find clarity and mental wellness by providing exceptional psychiatric and therapeutic care. In-person and online psychiatry and therapy appointments can be scheduled online.
Source: Clarity Clinic