City Center Investment Corporation Announces Tallest Office Tower in Pennsylvania Outside of Philadelphia and Pittsburgh
Press Release
•
updated: May 1, 2017
Five City Center Innovation Campus Also Includes New Event Center and Apartments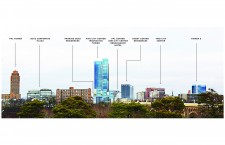 Allentown, PA, May 1, 2017 (Newswire.com) - City Center Investment Corp. (CCIC), the real estate development company whose major mixed-use development, City Center Lehigh Valley, is revitalizing downtown Allentown, Pennsylvania, announced expanded plans and a construction timeline for its Five City Center Campus today. The announcement was made by CCIC President J.B. Reilly.
The $250-300 million project now includes plans for the tallest office tower in Pennsylvania outside of Philadelphia and Pittsburgh.
"Our goal is to create a world-class entertainment complex that complements all of the other downtown and regional venues," said Deifer. "There is a great vibe downtown with the arts and music culture. We want to build on that and offer something unique."

Jerry Deifer, entertainment complex developer
Reilly also announced a partnership with entertainment complex developer Jerry Deifer Jr. today.
Details on the campus and each portion of the project are:
Location: 700 block of Hamilton Street bounded by Hamilton, Seventh, Walnut and Eight Streets
Master Plan Developed By: Studios Architecture and Land Collective
Construction Scheduled to Begin: 2018
Construction Scheduled to End: Five City Center Innovation Tower - late 2020; residential buildings - mid-2019
Parking: 1,000 spaces
Commercial Space: 30,000 GSF
Center Green: 1.7-acre park
Five City Center Innovation Tower (Eighth & Hamilton Streets): 24 floors, 353 feet tall, 442,000 GSF
Five City Center Residential
Residential Tower (Seventh & Walnut Streets): 12 Floors, 168,000 GSF, 150 Apartments
Residential Two (Eighth & Walnut Streets): 4 Floors, 75,000 GSF, 75 Apartments
Together, City Center and Deifer plan to develop a 30,000-square-foot entertainment complex on the corner of Seventh and Hamilton streets in downtown Allentown. The indoor/outdoor venue will be activated year-round with a variety of events designed to provide nightly activity. Plans include a permanent stage, outdoor high-definition LED screens and a stunning multi-season beer garden. The complex will also include a 1,400-capacity indoor venue that can open onto a new park. City Center plans to break ground on the complex in the fall of 2017.
Additionally, Reilly provided an update on CCIC's other projects:
Three City Center is now 100-percent leased.
STRATA East is 43-percent leased and on schedule to open Memorial Day 2017.
STRATA Symphony is on schedule to open in the winter of 2017.
Tower 6 is 60-percent leased and on schedule to open in the winter of 2018.
About City Center Lehigh Valley:
City Center Lehigh Valley is a major mixed-use development that is helping transform downtown Allentown, Pennsylvania, into one of America's most vibrant urban communities and a regional center of excellence for business, culture and metropolitan living. With Allentown's new arena, PPL Center, at its core, City Center includes more than 1 million square feet among three Class A office towers, the Renaissance Allentown Hotel, STRATA West, The Shops at City Center, upscale restaurant space and a coworking space called Velocity. City Center's total investment in downtown Allentown is $400 million, with additional development of office, residential, retail and green space underway.
Media Contact:
Jeff Vaughan, Vaughan Communications Group, jv@voncom.com, 610-533-4264
Source: City Center Investment Corporation
Related Media
Additional Links