CITI Healthcare Partners With Paragon Consulting Partners to Expand Enterprise EHR Deployments, Data Warehousing and Analytics in the Western United States
Press Release
-
updated: Oct 3, 2018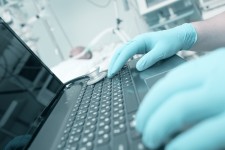 FALLS CHURCH, Va., October 3, 2018 (Newswire.com) - Creative Information Technology Inc. (CITI), a leading provider of EHR application decommissioning, migration, archival and data analysis tools, today announces their partnership with Paragon Consulting Partners LLC (PCP Imaging), experts in healthcare information technology, interoperability and data management. Together CITI and PCP Imaging are introducing a complete solution for the deployment, optimization and management of enterprise EHR systems and data to healthcare organizations in the western United States who may be expanding through mergers and acquisitions, struggling with legacy and/or disparate systems or undertaking their first enterprise EHR initiative. 
With its Data Retention and Interoperability Solution (DRIS), an Epic App Orchard Certified Platform, CITI provides a proven solution for decommissioning legacy health IT applications, including data migration, cleansing and archival to new or existing data warehouses. "This partnership with Paragon Consulting Partners LLC will allow CITI to expand our business opportunities on the West Coast and deploy our solutions for commercial, state and local opportunities across all of CITI's platforms," said Raju Togi, one of CITI's executives. "Paragon Consulting Partners LLC brings an equally strong track record for system transition and data management and will allow us to better assist western care providers who are facing challenges with maintaining disparate systems and outdated technology, allowing them to measurably improve operational and fiscal efficiency and build a platform for clinical and business analytics and intelligence."
As experts in healthcare IT and data management, PCP Imaging will augment CITI's DRIS solution in the west by closely managing end-to-end data extraction, translation and loading (ETL) processes to ensure the transition to an enterprise EHR is executed smoothly and efficiently, data integrity is maintained and the final solution is fully optimized to achieve maximum workflow efficiency, data transparency and return on investment. "Our team is comprised of clinical, technical and project management professionals – each with decades of demonstrated hands-on experience in real-world health IT settings," says Jef Williams, PCP Imaging's managing partner. "This enables us to design tailored workflows, data models and key performance indicators (KPIs) that meet the unique needs of each healthcare organization we serve, while avoiding the common pitfalls and challenges associated with large-scale enterprise data management projects."
The CITI-PCP Imaging collaboration can help healthcare organizations who are considering an enterprise EHR deployment, looking to optimize an existing EHR or are undertaking system consolidation efforts as a result of mergers, acquisitions or divestitures by providing the tools and professional services required to decommission legacy systems, define data migration and retention strategies, optimize workflow and build a platform for data analysis to facilitate continuous improvement and maximize return on investment. 
For more information contact:
Jef Williams, Managing Partner
Paragon Consulting Partners LLC
info@pcpimaging.com
pcpimaging.com
About Paragon Consulting Partners LLC
Paragon Consulting Partners serves the healthcare industry as seasoned, strategic business and management advisors. They specialize in assisting medical organizations with their IT and technology infrastructure needs including data management, enterprise imaging, system design and implementation, cardiovascular information systems, radiation dose programs, remediation technology, RFP and vendor selection, and practice management and staffing needs. For more information, visit www.pcpimaging.com or follow them on LinkedIn, Twitter, Facebook and YouTube.
About CITI
CITI's DRIS is one of the premier data conversion and archival applications currently available to healthcare organizations who are moving to new EHRs or who are looking to decommission costly legacy applications. DRIS has been implemented and is currently being used by a number of leading healthcare organizations who are migrating to Epic and other EHRs. DRIS also allows access of legacy data from new EHR systems for compliance, audits and clinical decision support. Additionally, CITI Healthcare offers Revenue Cycle Management Services, Legacy Support and Managed IT Services. For more information, visit www.citi-us.com or follow them on LinkedIn, Twitter, Facebook and YouTube.
Source: Creative Information Technology Inc.
Share:
---
Categories: Healthcare and Medical Informatics
Tags: Analytics, Data Migration, Data Warehouse, Decommission, EHR, EHR Migration, Electronic Health Record, Enterprise Imaging, Health Informatics, Health IT, Healthcare Informatics, Healthcare IT
---