Cinnamon Shores: Help After Harvey
How one coastal development is helping residents with their claims
Press Release
-
updated: Sep 18, 2017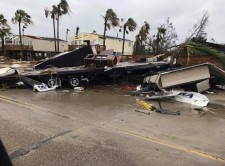 PORT ARANSAS, Texas, September 18, 2017 (Newswire.com) - Cinnamon Shores is a beautiful community located on Mustang Island. That all changed when Hurricane Harvey plowed into this community with over 140 MPH winds. Remarkably, the preparation into this disaster paid off tremendously and restoration began quickly.
Before Hurricane Harvey arrived, the developer of Cinnamon Shores, Jeff Lamkin, gathered a team of companies to ensure his community would be restored quickly. Jeff called in Strategic Claim Consultants to work on a disaster response plan. He then brought RR Restoration and the Strategic Claim Consultants to the island community to begin work. Within 5 days, the island community showed great healing and rejuvenation.
All the credit can't go to just Jeff though. The community really rallied around one another, served each other in a selfless and remarkable way. Combined with a great community and leadership, Strategic Claims Consultants was able to give the property owners peace of mind knowing that they had a partner to help them navigate the arduous claims process. A service Jeff Lamkin knew would bring tremendous value to the residents of Cinnamon Shores.
In fact, here is what Jeff had to say about it all: "Brandon Lewis and the Strategic Claims team were at my kitchen table during the storm building a disaster response plan with me to ensure that my development at Cinnamon Shores and its residents had full protection and were restored as soon as possible. Their team was at Cinnamon Shores helping local residents with their claims and reviewing their policies which gave them tremendous peace of mind. A big thank you goes out to them!"
About Strategic Claim Consultants: Strategic Claim Consultants provide peace-of-mind to policyholders when dealing with property loss claims. With over 25 natural disasters under their belt, they are the experts to call when you need someone on your team!
Source: Aculign LLC on Behalf of Strategic Claim Consultants
---
Categories: Emergency and Disaster Relief, Property and Casualty, Financial and Insurance Services
Tags: Cinnamon Shores Public Adjuster, Hurricane Harvey Public Adjuster, Strategic Claim Consultants
---