Churchill's Fine Teas and Charley Harper Art Studio Announce Collaboration and Worldwide Licensing Agreement
Press Release
•
Feb 6, 2023
Launch of Iconic Art Collection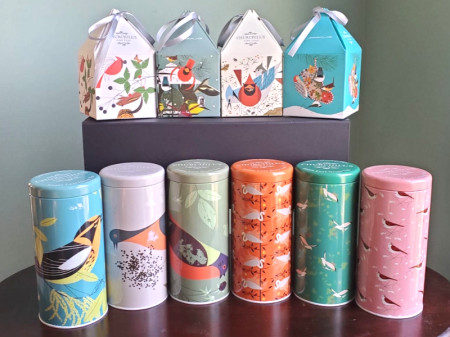 CINCINNATI, February 6, 2023 (Newswire.com) - Over the past year Kathleen and Katherine Kern, the mother-daughter duo behind Churchill's Fine Teas, have been collaborating with Charley and Edie Harper's son, Brett Harper. This collaboration has led to the launch of the Iconic Art Collection, a series of tea-related products featuring the iconic artwork of Charley Harper.
Churchill's recently launched six new products, which will be available all year round, including three washi-style tea tins and three traditional-style tea tins. The washi-style tea tins include exquisite purist teas from Churchill's Fine Teas and are inspired by the elegance and simplicity of traditional Japanese washi tea canisters. The traditional style tea tins feature elegant, flavored teas from Churchill's Fine Teas and draw inspiration from the opulence and craftsmanship of traditional Chinese porcelain tea jars. During the 2022 holiday season the Kerns' re-imagined their popular tea ornaments, featuring four Charley Harper designs chosen to celebrate wondrous moments in nature. The seasonal tea ornaments are available until the end of February.
Churchill's Fine Teas has an exclusive domestic and international license to create new tea-related products using the Harper archives. They have several additional products in the works and look forward to launching more in 2023 and beyond. Kathleen Kern says, "It has been incredibly exciting to review the illustrations of the Harper family and to imagine all the possibilities of how the art and our teas can complement each other. It's very rewarding to see our ideas and the result of the collaboration come together with these new products, and the customer reactions have been so positive so far!" All of the Iconic Art Collection items are available at both Cincinnati locations as well as their online store, www.churchillsteas.com.
About Churchill's Fine Teas
Churchill's Fine Teas is a Cincinnati-based, independently owned and operated tea retailer and wholesaler, with the largest selection of loose-leaf tea in the Midwest. Established in 2003, their mission is to inspire people, wherever they are on their tea journey. For more information visit www.churchillsteas.com
About Charley Harper
Charley Harper (1922-2007) was a Cincinnati-based artist and mid-century icon. He is best known for his highly stylized wildlife prints, posters, and book illustrations.
###
Source: Churchill's Fine Teas
Related Media